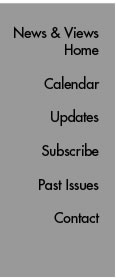 In Brief

Calendar Office Launches Upgrade
The Scripps Research Institute Calendar Office has launched an upgrade to the Conference Room Reservation/Seminar Announcement Process. The new calendar system now resides on the Scripps Research Exchange server. If you already have an Exchange account and have Microsoft Outlook installed on your PC, you will be able to access the new calendar system and make reservation/announcement requests directly from Outlook on your desktop. Mac users, other non-PC users, and users who do not have an account on the Exchange server may contact Research Computing Help Desk, x4-9369, to configure an account and to access Outlook though the Citrix Server.
Reservation/announcement instructions are available on the calendar website: http://www.scripps.edu/calendar/calendar.html. Suggestions or questions should be directed to the Calendar Office, calendar@scripps.edu.
To further assist you in using the new Conference Room Reservation/Seminar Announcement Process, the Calendar Office will present a live demo on Wednesday, April 25, from noon to 1PM, in the W.M. Keck Amphitheater, Beckman Center for Chemical Sciences. This presentation will guide you through the steps for reserving or announcing a Scripps Research-related event using the new reservation process. No R.S.V.P. required. Feel free to bring your lunch.

Library Tip: CSA Illustrata Trial
The Kresge Library has trial access through May 18 to CSA Illustrata: Natural Sciences , a database of searchable figures, graphs, tables, charts, photos, and other illustrations from scholarly journals. The site uses "deep indexing" to categorize the content associated with tables and figures, then links back to the article abstract or full-text where the table or figure comes from. CSA Illustra, which aims to provide faster and more efficient searching, covers topics including biology, medical sciences, veterinary science, and pharmacology. Coverage is from 1997 forwards.
To learn more about this resource, read the frequently asked questions page or watch the YouTube video for an introduction.
For more information, contact the Kresge Library Help Desk, x4-8705 or helplib@scripps.edu.

Get Up to Speed on EndNote X, MEDLINE
Hands-on classes on EndNote X and MEDLINE have been added to the training calendar:
EndNote X (PC/Mac) classes offered on Monday, April 30, 1 - 3:30 PM, and Monday, May 7, 9 - 11:30 AM, will cover: setting up an Endnote library; entering records, editing records, fields, keywords; using Cite while you write with MS Word; and other topics depending on attendees.


A MEDLINE (PubMed and Ovid access) class offered on Wednesday May 2, 1 - 3:30 PM, will cover: basic searching with Boolean, using MeSH terms, using limits, saving searches, finding full text, exporting to EndNote or RefMan, and other topics depending on attendees' needs.
To register for either class, go to the Training web site. Please be sure to confirm the date of the class when registering. Classes will be held in the Computer Training Room on the third floor of 3377 North Torrey Pines Court, Room 310.

Reminder: 2007 Scientific Report Submissions Due May 11
2007 Scientific Report submissions for both California and Florida faculty are due on Friday, May 11. The book will go to press in November for an early January distribution, coinciding with the annual meeting of the Board of Scientific Governors. For submission guidelines, see http://www.scripps.edu/news/sr/. For more information, contact Jann Coury, at jcoury@scripps.edu.
Send comments to: mikaono[at]scripps.edu