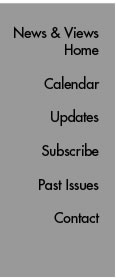 Etceteras

Francis Chisari Wins Distinguished Scientist Award
Professor Francis Chisari of The Scripps Research Institute has won the Hepatitis B Foundation's Distinguished Scientist Award 2007. The award recognizes Chisari's "seminal work in the immunopathology of hepatitis B, which has contributed significantly to the current understanding of the disease and advanced medical research towards finding a cure." The award will be presented at the Hepatitis B Foundation's annual Crystal Ball Gala on April 28 in Bucks County, PA.

Charles Surh Honored with Ho-Am Medicine Prize
Scripps Research Associate Professor Charles Surh has won the Ho-Am Foundation's Medicine Prize. The foundation, set up in memory of the late Lee Byung-chull, founder of Samsung Group, presents awards annually to those who have made outstanding contributions to science, culture, and human welfare. Surh is being honored for his work on the selection of young T cells in the thymus and the factors controlling mature T cell survival in the extra thymic environment. He will receive the award at a ceremony scheduled for June 1 in Seoul, Korea.

Free Public Lecture: "Current Research and Developing New Treatments for Cardiovascular Disease, Stroke, Alzheimer's, and Arthritis"
Three leading scientists at Scripps Research will give a free presentation titled "Current Research and Developing New Treatments for Cardiovascular Disease, Stroke, Alzheimer's, and Arthritis—On the Front Lines of Hope," on Wednesday evening, April 25, in La Jolla.
Speakers at the event, to be introduced by Scripps Research Executive Vice President and COO Douglas A. Bingham, include:
Professor John Griffin, who will discuss his investigation of how molecular players like activated protein C contribute to protection against thrombotic diseases, such as ischemic stroke or venous thrombosis, including new therapies that could reduce damage caused by harmful blood clots.


Professor Jeffrey Kelly, who will talk about developing novel therapeutic strategies using chemistry, biophysical, and cell biology approaches to combat Alzheimer's disease.


Professor Martin Lotz, who will summarize his investigation of rheumatoid arthritis and osteoarthritis to develop novel diagnostic tools and therapeutic approaches. His osteoarthritis research program is focused on mechanisms of joint aging.
Part of the institute's Frontiers in Science series, the presentation and reception will begin at 5 PM at Estancia La Jolla Hotel and Spa, 9700 North Torrey Pines Road. Seating is limited. For further information and reservations, contact Ginny Deary, (858) 784-9367, e-mail ginnyd@scripps.edu, by April 16 .
Send comments to: mikaono[at]scripps.edu