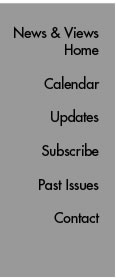 In Brief

Eric Johnson to Speak in Faculty Lecture Series
Professor Eric Johnson will speak on "Deciphering the versatility and selectivity of P450 monooxygenases in drug metabolism: insights for drug discovery" as part of the Faculty Lecture Series on Wednesday, March 14. The lecture will be held at 5 PM in the Valerie Timken Amphitheater, Scripps Clinic, 10666 North Torrey Pines Road, La Jolla.

Career Workshop Series: Scientific Writing
Scripps Research principal investigators Floyd Bloom and Ian Wilson will speak on scientific writing on Thursday, April 19, from 1:30 to 3:00 PM, as part of the Career Workshop Series for Scripps Research graduate students, postdocs, and faculty. The seminar will offer recommendations on the manuscript-writing, submission, and publication process, first-hand accounts of what journal editors look for, and examples of good and bad writing. The event will be held in THE COMMITTEE Lecture Hall, Skaggs Institute Building. No RSVP is necessary.
As a follow-up event, the week of May 7 Professors M.G. Finn and Luc Teyton will spearhead a two-part, hands-on manuscript writing workshop for postdocs. Organizers seek experienced science writers and editors to help review manuscripts and to offer thoughtful feedback for the postdoc participants. Please contact Ryan Wheeler for more information or to volunteer.
Send comments to: mikaono[at]scripps.edu