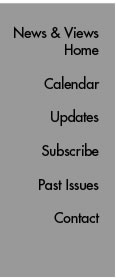 Etcetera

Barbas Lab Papers Top Most-Cited List
Three papers from the laboratory of Scripps Research Institute Professor Carlos Barbas, III, made the Journal of the American Chemical Society's most-cited list for 2006, including a paper that took the number one spot. The papers are:
#1: "Organocatalytic Direct Asymmetric Aldol Reactions in Water," by Nobuyuki Mase, Yusuke Nakai, Naoko Ohara, Hidemi Yoda, Kunihiko Takabe, Fujie Tanaka, and Carlos F. Barbas III, J. Am. Chem. Soc.; 2006; 128(3) pp 734 – 735.
#4: "Direct Asymmetric anti-Mannich-Type Reactions Catalyzed by a Designed Amino Acid," by Susumu Mitsumori, Haile Zhang, Paul Ha-Yeon Cheong, K. N. Houk, Fujie Tanaka, and Carlos F. Barbas, III, J. Am. Chem. Soc.; 2006; 128(4) pp 1040 – 1041.
#7: "Organocatalytic Direct Michael Reaction of Ketones and Aldehydes with b-Nitrostyrene in Brine," by Nobuyuki Mase, Kaori Watanabe, Hidemi Yoda, Kunihiko Takabe, Fujie Tanaka, and Carlos F. Barbas III, J. Am. Chem. Soc.; 2006; 128(15) pp 4966 – 4967.
Along with online publication in the Journal of the American Chemical Society, the articles are now featured on "The Most," a website featuring the most-cited, most-accessed, and "hottest" articles from ACS Publications, as reported by Thomson ISI's Web of Science.

Evelyn Griffin Wins Image Contest
Evelyn Griffin, research assistant in Discovery Biology at Scripps Florida, has won the IN Cell Competition sponsored by GE Healthcare. As her prize, she will fly to New York to see her image displayed on the first high definition screen in Times Square on March 10. In addition, her image will be displayed at the Society for Molecular Biosciences meeting in Montreal in April 2007 and in an imaging calendar for 2008.
Griffin developed the image as part of a project using an automated microscopic platform to identify small compounds that alter biochemical and morphological parameters in cellular context. This technology, called "high content screening," combines relatively high compound throughput with single cell analysis and is an early part of modern drug discovery. The Translational Research Institute of Scripps Florida routinely uses high content screening for functional analysis of high throughput screening and Med Chem leads.
The image shows NIH-3T3 fibroblasts that overexpress the gene src, a family of proto-oncogenes that may lead to cancer. Src overexpression results in actin re-localization toward structures known as "podosomes," which are thought to be involved in cell motility.
See the In Cell Competition web site for more information on the contest.

Kiyomi Komori Wins Jairo Arévelo Graduate Fellowship
Kiyomi Komori, a Scripps Research Kellogg School of Science and Technology Ph.D. candidate, has been selected to receive the Jairo H. Arévelo Fellowship for 2007. Founded in memory of Jairo H. Arévalo, Scripps Research's first doctoral degree recipient, the prestigious fellowship is awarded each year to a student selected by a committee of Scripps Research faculty as having those qualities of academic scholarship, achievement, enthusiasm, motivation, commitment, and thirst for knowledge that were so apparent in Arévalo. Komori's thesis studies in the Havran laboratory are directed towards the identification of activating antigens for skin resident gamma delta T cells.

Endeavor Magazine Receives International Design Award
The Scripps Research magazine Endeavor has won a HOW International Design Award. The magazine is featured among other annual winners in the most recent issue of HOW, a graphic design industry magazine. Art direction for Endeavor, which features the science and scientists of The Scripps Research Institute, is provided by San Diego design firm Miriello Grafico.
Send comments to: mikaono[at]scripps.edu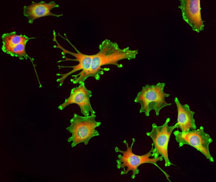 As winner of GE Healthcare's IN Cell Competition, Research Associate Evelyn Griffin will fly to New York to see her first-prize creation (above) displayed on the first high-definition screen in Times Square March 10.