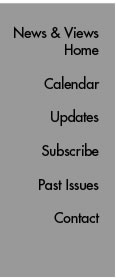 Etcetera
Laura White Receives Bagel Fellowship
Laura White of The Scripps Research Institute's Kellogg School of Science and Technology has been selected as the recipient of the Bagel (pronounced "ba-jel") Graduate Student Fellowship, an endowed award that provides financial support for a student in his or her first critical year of graduate study. White, who earned a B.S. from Emory University, has begun biology studies at the Kellogg School. She is currently starting a rotation in Professor Frank Chisari's lab, focusing on the development of antiviral peptides against the hepatitis C virus.

Chemistry Department Hosts 18th Frontiers in Chemistry Symposium
The Scripps Research Department of Chemistry presents the 18th Annual Frontiers in Chemistry Symposium on Friday, February 16. Lectures, which will be held in the Hilton La Jolla Torrey Pines Hotel, 10950 N. Torrey Pines Road, La Jolla, CA 92037, will include:
9 - 9:10 AM: Welcome by Chemistry Chair K.C. Nicolaou of Scripps Research.

9:15 – 10:05 AM: Professor Brian M. Stoltz of California Institute of Technology on "Natural Products as a Driving Force for Discovery in Organic Chemistry."

10:20 – 11 AM: Professor Dean Toste of University of California, Berkeley on "Gold(I)-Catalyzed Reactions for Organic Synthesis."

11:40 AM – 12:20 PM: Professor Colin Nuckolls of Columbia University on "Reaction Chemistry Meets Lithography."

12:25 – 1:15 PM: Professor Eric T. Kool of Stanford University on "The Chemistry of Information Transfer in Natural and Designed Genetic Systems."

A lunch reception will follow. While the symposium is free and open to the public, registration is required at http://www.scripps.edu/chem/frontiers/registration.php. For more information, contact Vicky Neilsen Armstrong, x4-2400 or vbn@scripps.edu.
Send comments to: mikaono[at]scripps.edu