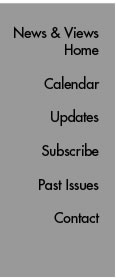 Study Reveals New Function of Protein Kinase Pathway in Tumor Suppression
By Jeff Worley
Scientists at The Scripps Research Institute have discovered a surprising new function of a well-known signaling pathway that, when activated, can inhibit tumor development. This finding may lead to the development of drugs that can serve as an effective cancer therapy by artificially activating this pathway in cancer cells.
The study, led by Associate Professor Peiqing Sun and Professor Jiahuai Han of The Scripps Research Institute, is being published on January 26, 2007 in the journal Cell.
The research focused on signaling pathways that mediate an anti-tumor defense response called senescence, or cellular aging. The research, which was conducted in both human cell culture and rodent models with skin cancer or lymphoma, identified one essential element of this anti-tumor response, namely, p38-regulated/activated protein kinase (PRAK). Previous to this research, PRAK's physiological functions had been poorly understood.
"In uncovering this basic mechanism, we've advanced our knowledge in terms of how cancers develop," Sun said. "More importantly, we have identified a pathway in normal cells that, when activated, can inhibit tumor development. This lays the groundwork for new cancer therapy—for future drug development to artificially activate this pathway in cancer cells."
The human body has several built-in mechanisms that prevent cancer development. One is cell death, or apoptosis. Another is premature senescence, a recently identified tumor-restricting response that permanently stops cell proliferation.
"A normal cell stops dividing when it gets old," Sun explained. "This is referred to as senescence of a cell. A young cell will become senescent prematurely when it acquires a mutation that activates an oncogene. This is one of the ways our body tries to eliminate cells that might become cancerous."
In previous research that set the stage for this current project, Sun's lab worked to identify the signaling cascade that mediates ras-induced premature senescence (ras is an oncogene, a gene that, when activated by mutations, causes cancer by transducing unrestricted growth signals). Using human cells in culture, Sun's team showed that the p38 mitogen-activated protein (MAP) kinase is required for ras to induce senescence in cell culture.
"After these findings, we wanted to look downstream of p38 to see exactly how this MAP kinase mediates senescence," Sun explained. "We knew the effect of p38 is achieved through its ability to regulate its downstream substrates, so we started to investigate various substrate candidates to see which ones were involved."
Fortunately, Sun added, his research team could easily link up with a leading expert in the p38 field, Professor Jiahuai Han. The p38 gene was cloned by Han in 1994. Since then, the Han lab has identified some p38 downstream protein kinases, including PRAK, and has shown that PRAK can be activated by various stresses. The Han research group also engineered PRAK knockout mice, animals that lack the PRAK gene, expecting that these mice would be defective in stress response. To the researchers' surprise, the mice responded normally to stresses, an indication that this gene may not be required for the stress pathway.
Joining forces, Sun and Han collaborated to investigate the role of PRAK in senescence response and tumor suppression. They also enlisted the expertise of Scripps Research investigators John Yates and Peter Wright and their laboratory groups.
What the researchers found was that PRAK is required for ras to induce senescence in vitro in normal cells derived from a mouse. They also did an experiment to see if the lack of PRAK would make a difference in senescence induction in human cells. The team introduced double-strand RNA into normal human fibroblast cells to inhibit the expression of PRAK and then activated the ras oncogene in these cells. The results were identical to those in mouse cells. When PRAK was inactivated in normal human cells, these cells did not undergo premature senescence.
"These experiments tell us that PRAK in both human cells and in mouse cells is an essential component that mediates ras-induced senescence," said Sun.
The researchers wanted, next, to find out whether PRAK was essential for ras-induced senescence in vivo, and whether deletion of the PRAK gene would make a difference in the ras-induced tumor-development process in PRAK knockout mice. A group of these mice and a group of normal mice were treated with DMBA, an environmental pollutant found in cigarette smoke and gas emissions, which can induce ras mutations and cause skin tumor formation. The researchers monitored the incidence of skin tumor formation in these mice, and after tumors formed, the degree of cell senescence in the tumors. The results, Sun said, were exciting.
"The mice lacking the PRAK gene were more susceptible to skin tumor induction by DMBA, as compared to wild-type mice," Sun said. "This indicates that the presence of the normal PRAK gene suppresses tumor formation. In the wild-type, normal mice, DMBA induced premature senescence, but in the knockout tumors there were no senescent cells. The PRAK knockout animals were resistant to ras-induced senescence but prone to tumor induction, which led us to the happy conclusion that PRAK and the senescence response mediated by PRAK has a tumor-suppressing function in vivo. The knockout mice were more vulnerable to tumor induction because the senescence pathway, which is responsible for the anti-tumor self-defense mechanism, had been compromised. In addition to the skin cancer model, loss of the PRAK gene in mice also accelerates lymphoma development, which indicates that PRAK may be involved in suppressing tumor formation in multiple tissues."
In addition to Sun, Han, Yates, and Wright, authors of this paper, titled "PRAK is essential for ras-induced senescence and tumor suppression," are Naoto Yoshizuka, Liguo New, Bettina Moser, Yilei Li, Rong Liao, Jianming Chen, Qingdong Deng, Maria Yamout, and Meng-Qiu Dong of Scripps Research; Changchuan Xie of Scripps Research and the School of Life Sciences, Xiamen University; and Costas Frangou of the Fred Hutchinson Cancer Research Center. This work was supported by the National Institutes of Health.
Send comments to: mikaono[at]scripps.edu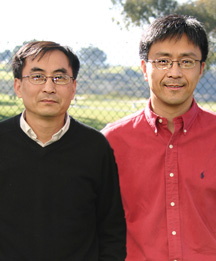 Scripps Research investigators Peiqing Sun (right) and Jiahuai Han collaborated on the Cell study on an anti-tumor response. Photo by Kevin Fung.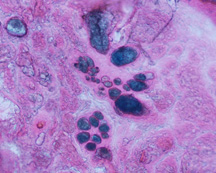 The growth of skin tumors is restricted by the presence of cells undergoing senescence (shown in blue), which permanently halts cells' proliferation.