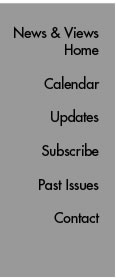 In Brief

Sydney Brenner to Speak in Distinguished Lecturer Series
Sydney Brenner, distinguished research professor at the Salk Institute and recipient of the 2002 Nobel Prize in physiology or medicine will speak on "Simple Thoughts About Complex Genomes" as part of the Society of Fellows Distinguished Lecturer Series. The event will take place on Thursday, January 25, from 4 to 5:30 PM, in the Timken Amphitheater, Scripps Green Hospital.

Library Tip: Free Gateways from Nature Publishing
Nature has launched two new gateways, the Functional Glycomics Gateway and the Pathway Interaction Database.
The Functional Glycomics Gateway, a partnership between the Consortium for Functional Genomics and Nature Publishing, focuses on glycobiology research and is updated monthly. It aims to highlight "new and important contributions" in the field.
The Pathway Interaction Database, a partnership between the U.S. National Cancer Institute and Nature Publishing, focuses on cellular signaling pathways. Users can search and download data.
Other Nature gateways include the Cell Migration Gateway, the Neuroscience Gateway, the Omics Gateway, and the Signaling Gateway, a joint venture with UCSD.

Upcoming Onsite Clinics
On Monday, January 15, Wednesday, January 17, and Friday, January 19, personnel from Sharp Rees-Stealy Medical Group will be onsite to conduct TB screenings, hepatitis B immunizations, serum draws, and tetanus immunizations.
The clinics will be conducted in the 3366 Building, in Room 325, on the third floor, from 11 AM to 2 PM on Monday, Wednesday, and Friday.
No appointments are necessary. TB screening requires a 48 to 72 hour follow-up. Individuals receiving the TB screen on Monday will need to return on Wednesday, and individuals screened on Wednesday, will need to return on Friday. Initiation of the TB screening process will not be available on Friday, but Hepatitis B immunization, serum draws, and tetanus immunizations will be. To learn more about these programs, see the Environmental Health & Safety Occupational Medicine web page.
Send comments to: mikaono[at]scripps.edu





Sounds of Celebration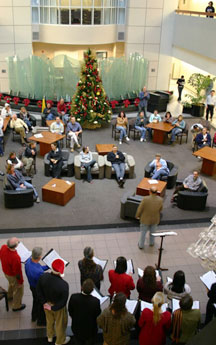 The La Jolla Renaissance Singers, an ensemble of professional and amateur vocalists directed by William Propp, added to the holiday festivities on the Scripps Research La Jolla campus by presenting "Primarily Praetorius"—a sampler of sacred music featuring rarely performed works by Hieronymus Praetorius (1560-1629), Jacob Praetorius II (1586-1651), and the celebrated Michael Praetorius (1571-1621).