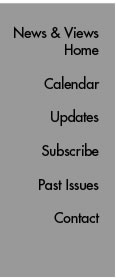 Father Cycles Coast-to-Coast to Rally Support Against Rare Disorder
By Mika Ono
Frank Wootten, a resident of Hooksett, New Hampshire, has set out to ride his bicycle from St. Augustine, Florida, to The Scripps Research Institute in La Jolla, California, to raise awareness and research funds for the fight against Friedreich's ataxia, a rare and devastating neurodegenerative disorder. A research team at Scripps Research is investigating the biological underpinnings of and potential treatments for the disease.
"I am hoping that through my cycling I can help my son and many others who suffer from this horrible disorder," said Wootten, who started his ride December 3 and is currently making his way across his fourth state, Louisiana, after successfully crossing Florida, Alabama, and Mississippi. His planned arrival date at Scripps Research's La Jolla campus is January 12.
Wootten's son, Thomas—nicknamed "TK"—28, has Friedreich's ataxia and, like many sufferers, is confined to a wheelchair. TK, who lives with his service dog, named James Bond, in Columbia, South Carolina, was diagnosed with Friedreich's in early adolescence.
Symptoms of Friedreich's ataxia usually appear between the ages of five and 15, and include trouble walking, reduced hand coordination, and slurred speech, progressing to scoliosis, heart disease, and diabetes. Most Friedreich's ataxia sufferers are eventually confined to a wheelchair and die as young adults, mostly due to associated heart disease. While research on the disease is progressing, no effective treatment is yet available for the disease.
About one of every 20,000 to 50,000 people in the United States has Friedreich's ataxia, which is caused by a genetic defect that prevents adequate production of the protein frataxin. In our bodies' cells, frataxin is essential for proper functioning of mitochondria, the cells' energy factories. Low levels of the protein lead to energy deprivation, cell death, and degeneration of nerve and muscle tissue.
Scripps Research Professor Joel Gottesfeld is leading one effort to investigate the causes of and possible treatments for the disease. His team published a study this year in the journal Nature Chemical Biology providing evidence for one method that might be used to reverse the disease.
In the October 2006 Nature Chemical Biology study, the research team developed histone deacetylase inhibitors that, in test cells, reactivated the frataxin gene and boosted frataxin protein production to therapeutic levels. Those compounds are currently being tested in animal models and human trials could begin within the next 18 months.
"Our small molecules offer a therapeutic approach to pursue in the near term," said Gottesfeld.
In the meantime, Wootten is braving the elements—which so far have included wind, rain, traffic, pit bulls, monotony, and a "tender tush"—to bring Friedreich's ataxia to the public's attention and to raise money to insure further basic research and clinical trials for promising potential therapeutics.
"I've talked to a lot of folks about Friedreich's ataxia," Wootten writes in the ongoing blog of his travels at www.frankwoottensblog.blogspot.com. "Not a single person I've spoken to about it has ever even heard of it."
Wootten hopes that once people know about Friedreich's ataxia, they will be inspired to donate to the Friedreich's Ataxia Research Alliance (FARA), a 501(c)(3), non-profit, charitable organization dedicated to accelerating research leading to treatments and a cure for Friedreich's ataxia. Since its founding in 1998 by Friedreich's ataxia-affected families and scientists in the field, FARA has provided about $8 million in grants to research teams around the world, including to the Gottesfeld lab at Scripps Research. Information on giving to FARA is available at the organization's web site at http://www.FAResearchAlliance.org.
Information on giving to Scripps Research is available at http://www.scripps.edu/philanthropy/.
Send comments to: mikaono[at]scripps.edu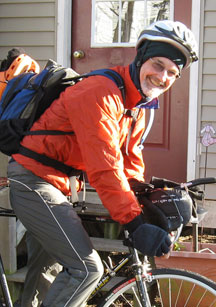 "I am hoping that through my cycling I can help my son and many others who suffer from this horrible disorder," says Frank Wootten.