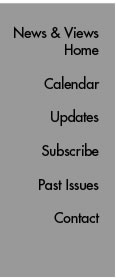 Snapshot:
Tom Chanthaoudom
Position: Housekeeper, Environmental Services.
Responsibilities: Participating in the Environmental Services team effort to keep The Scripps Research Institute's La Jolla campus clean, including mopping, vacuuming, dusting, emptying trash and recycling bins, cleaning rest rooms, disposing of sharps and other waste, noting any repairs that need to be made, and responding to emergencies. Currently, Chanthaoudom's area is the first floor of the Molecular Biology building.
Started at Scripps Research: 2003.
Shift: 4 PM to 12:30 AM.
Background: Grew up in Laos, where he was an elementary school teacher before coming to the United States in 1985. He has been in San Diego since that time, working at jobs that have included machine operator.
Day-to-Day Goals: "I try to be a good worker and friendly with other people. I also like to take suggestions about my building, because I like to do my job well."
Recent Honors: Selected as the Environmental Service Department's Employee of the Year (with Housekeeper Chris Ochoa, who will be profiled in News&Views next week). "I never expected that!"
Favorite Part of the Job: "Friendly co-workers and nice leaders in department."
Outside Work: Chanthaoudom enjoys walking, exercising, traveling, and spending time with friends and family, including his four grown children, Monica, Khampasai, Vaitip, and Abel.
Send comments to: mikaono[at]scripps.edu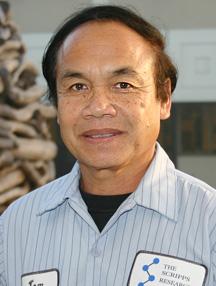 "I like to do my job well," says Housekeeper Tom Chanthaoudom. Photo by Kevin Fung.