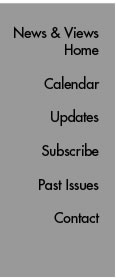 In Brief

Michael Oldstone to Speak in Faculty Lecture Series
Scripps Research Professor Michael B. Oldstone will speak on "New Horizons for Infectious Protein Folding Prion Diseases," as part of the Faculty Lecture Series on Wednesday, November 8. The lecture will be held at 5 PM in the Timken Amphitheater, Scripps Clinic, 10666 North Torrey Pines Road.

Panel Discussions: Industry and Nontraditional Careers
The Society of Fellows and the Postdoctoral Services Office present a two-part career symposium:
"Traditional Careers in Industry," on Thursday, November 2 from 1:30 to 3 PM, will feature Ph.D. panelists representing local biopharmaceutical companies, including a consultant and group leaders in purification development, protein engineering, virology, and medicinal chemistry from Biogen Idec, Nexbio, Pfizer, and Isis.


"Nontraditional Careers for Ph.D.s," on Wednesday, November 8 from 1:30 to 3 PM, will feature Ph.D. panelists representing local careers in patent law, technology transfer, medical/science writing, publishing, and science career development administration from Scripps Research, Morrison & Foerster, Baxter BioScience, Naturejobs, and the New York Academy of Sciences.
In both events, panelists will give a general introduction to their career, including job description, job opportunities in the field, necessary training and skills, salary range, and further resources. Question and answer sessions will follow the presentations. Both panels will be held in the Keck Amphitheater, with a reception following in Beckman Atrium. All graduate students and postdocs are welcome, no RSVP required.

Library Tip: Access the New Scientist
The New Scientist, a weekly science news magazine that highlights current issues, advances, and research, is moving to ScienceDirect and is available free until December 31, 2006. Check out the latest issue of the New Scientist today.

New English-as-a-Second-Language Class to Begin
A new English-as-a-second-language class will begin Tuesday, November 7. This class, taught by instructor Cassandra Wadkins, will meet from 6:30 to 8:30 PM every Tuesday in the Immunology Building West Conference Room. The price for three months (12 classes) is $60. Each intermediate-level English class is divided into speaking and listening, idioms and vocabulary, and reading and writing. If you would like to improve your English communication skills and your understanding of friends and colleagues, movies, television shows, and the news, this class is for you. The instructor uses movies, games, television shows, grammar books, songs, drawing, and novels to teach standard American English. Have fun and learn English at the same time! For more information, leave a message at x4-2176.
Send comments to: mikaono[at]scripps.edu