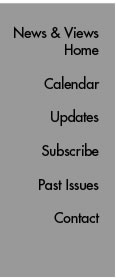 Etcetera

Cystinosis Research Foundation Awards Grant to Stephanie Cherqui and Daniel Salomon
The Cystinosis Research Foundation has awarded a grant to Staff Scientist Stephanie Cherqui and Associate Professor Daniel Salomon of The Scripps Research Institute, as part of an effort to find new treatments and a cure for the rare and fatal disease cystinosis. In patients with cystinosis, which affects an estimated 2,000 people worldwide, the amino acid cystine accumulates in the body's tissue due to the inability of the body to transport cystine out of the cell. Over a period of years, the cystine destroys every organ in the body, including the kidneys, liver, eyes, muscles, thyroid and brain, usually resulting in death before the age of 40.
Cherqui and Salomon received funding for a three-year study to research the treatment of cystinosis nephropathy using genetically modified adult stem cells in the murine cystinosis model. The goal of this study is to test the hypothesis that transplantation of autologous adult stem cells expressing a functional CTNS gene (the defective gene) can be used to treat and prevent the renal defects of cystinosis.
The Cystinosis Research Foundation, whose web site can be found at www.natalieswish.org, is the world's largest non-profit fund provider of cystinosis research. Formed in 2003, the foundation has committed and funded $3.8 million in clinical and benchmark research in the United States and Europe.
Send comments to: mikaono[at]scripps.edu

Dutch Students Visit La Jolla Campus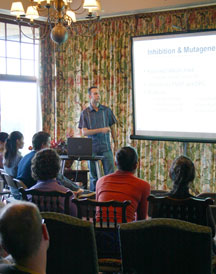 Some two dozen microbiology Ph.D. candidates from Wageningen University in Holland visited the Scripps Research La Jolla campus last week, touring the Joint Center For Structural Genomics and attending seminars and lectures.