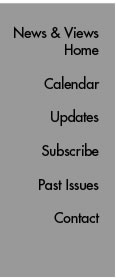 Etcetera

Ardem Patapoutian Wins Society for Neuroscience Young Investigator Award
Associate Professor Ardem Patapoutian of The Scripps Research Institute has won the prestigious Society for Neuroscience Young Investigator Award. The prize, which was awarded at the society's annual meeting October 17 in Atlanta, is granted to an outstanding neuroscientist who has received an advanced professional degree within the past 10 years. Patapoutian's lab studies the molecular basis of the sense of touch by using genomics, imaging, and transgenic technologies to identify and characterize ion channel proteins involved in the perception of distinct thermal, mechanical, and chemical stimuli. For more information, see the Society for Neuroscience web site.

Graduate Office Announces Student Fellowships
The Office of Graduate Studies has announced the award of several merit-based fellowships to Kellogg School of Science and Technology students:
ARCS® Foundation Fellowships: Amber Murray, Noah Burns, Gabriel Simon, Mark Tichenor, and Craig Yoshioka,
Fletcher Jones Scholarships: Stephen Chen and Jackie Blankman,
Gilula Fellowship: Sarah Siegel and Andrew Ward,
Delia Baxter Fellowship: Marin Gantner.
Send comments to: mikaono[at]scripps.edu



Temporary Building Opens for Scripps Florida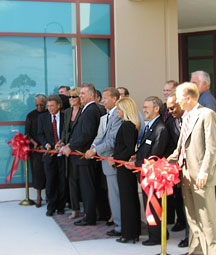 Palm Beach County Commissioners join officials from Florida Atlantic University and Scripps Florida October 16 to open a second temporary building on the Jupiter campus. The building provides Scripps Florida with an additional 33,000 square feet of space during the construction of permanent facilities, projected to start in early 2007 and be complete in 2009.