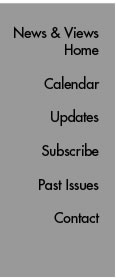 In Brief

Workshop: "Guidelines for Successful Postdoctoral Training"
Sandra Schmid, chair of The Scripps Research Institute Cell Biology Department, will give a workshop for postdoctoral fellows, "Guidelines for Successful Postdoctoral Training," on Thursday, October 19, from 2 to 3:30 PM. The event will be held in the Keck Amphitheater of the Beckman Center. For more information, contact the Office of Postdoctoral Services, x4-9740.

SOF Hosts Halloween Cruise
The SOF cordially invites members of the Scripps Research community to a special Halloween party Saturday, October 28. The party will take place on the yacht Point Loma yacht as it cruises San Diego Harbor. The dock is located at 1050 North Harbor Drive, at the foot of Broadway, downtown. Costumes are highly encouraged and prizes will be awarded for the best ones! Boarding time is 8.30 PM, with a 9 PM boat departure. Return time is midnight. Cost for Scripps Research employees, postdocs, students, and ONE guest: $10 each. Extra guests: $15 each.
To purchase tickets, download and fill out the registration form from the SOF web site and deliver the form with your check payable to "Society of Fellows" for the full amount (sorry, no cash) to one of the following:
Kelly-Anne Purton, Stein room 108,
Michelle Davis, Stein room SR202B,
Trish Burdo, Science Park, room 2008,
Vandana Ramachandran, ICND room 202.
Boat capacity is obviously limited, and reservations will be made on a first-come, first-served basis. No e-mail or phone reservations will be accepted.

Learn About Online Retirement Account Access and Planning Guides
Benefits Administration is pleased to announce that Fidelity Investments will be on the La Jolla campus on Wednesday, October 18 for a presentation of the company's online account access product, Netbenefits. Netbenefits allows retirement plan participants secure access to their retirement account virtually 24 hours a day. Some of the topics to be discussed include account management through a variety of online tools, personal finance education via online seminars, and portfolio planning. The seminar will be held from noon to 1 PM in the Human Resources Training Room, 3377 N. Torrey Pines Ct., Suite 205.

Upcoming Onsite Clinics
On Monday, October 23, Wednesday, October 25, and Friday, October 27, personnel from Sharp Rees-Stealy Medical Group will be on the La Jolla campus to conduct TB screenings, hepatitis B immunizations, serum draws, and tetanus immunizations. The clinics will be conducted in the 3366 Building, in Room 325, on the third floor, from 11 AM to 2 PM on Monday, Wednesday, and Friday. No appointments are necessary. TB screening requires a 48 to 72 hour follow-up. Individuals receiving the TB screen on Monday will need to return on Wednesday, and individuals screened on Wednesday, will need to return on Friday. Initiation of the TB screening process will not be available on Friday, but hepatitis B immunization, serum draws, and tetanus immunizations will be. To learn more about these programs, see the Environmental Health & Safety Occupational Medicine web page.
Send comments to: mikaono[at]scripps.edu