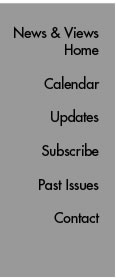 Snapshot:
Adam Mullick
Position: Research Associate in laboratories of Scripps Research investigators Linda Curtiss and Peter Tobias.
Responsibilities: Conducting experiments to determine the role of innate immunity, especially Toll-like receptors, in atherosclerosis—the build-up of fatty substances, cholesterol, cellular waste products, calcium and other substances in the inner lining of arteries, which is considered to be the most important underlying cause of cardiovascular diseases such as strokes and heart attacks. "There's not much work in this particular area of research, as Toll-like receptors are a fairly recent discovery. We're fortunate to be at the forefront of this work."
Arrived at Scripps Research: August 2003. "Coming to Linda's lab after my Ph.D. at U.C. Davis was an obvious choice—she's a leader in the field."
Funding: Two-year American Heart Association Fellowship for his project, "Roles of Toll-like receptors 2 and 4 in a mouse model of atherosclerosis."
Challenge: "Since we're working with a knockout mouse disease model, it takes time to both generate the mice and the atherosclerotic disease."
Career Goal: To develop a line of research or method that is unique in pursuit of a successful career in academic science.
Activities: President of the Society of Fellows (SOF), 2004 - 2006. "My role has been keeping everyone together—providing the glue for the group, reinforcing the value of what volunteers are doing, and encouraging capable people to go forward with their ideas. I've learned a lot about motivating and managing people. When I talk to potential volunteers, I tell them 'Be selfish. Do something for personal gain that will also provide a benefit for our postdoc population.' Getting involved can teach you valuable skills related to professional development not acquired in the lab and give you the opportunity to meet key people in both academia and industry. Most importantly, through the SOF I've had the pleasure of meeting an extraordinary group of people with whom I would not have met otherwise."
Accomplishments as SOF President: In addition to enhancing the postdoctoral experience at Scripps Research by providing the leadership for SOF career seminars, lectures, research symposia, and social events, Mullick helped to introduce tuition reimbursement for postdocs and to integrate the society's activities with the expanded Postdoctoral Services Office. On the national scene, Mullick spearheaded the Scripps Research component of the national Sigma Xi Postdoc Survey, which provided the first detailed picture of the state of affairs of the country's postdocs, and assisted in the organization of the 2005 and 2006 annual meetings of the National Postdoctoral Association (launched four years ago in part by former SOF member Avi Spier).
Top Advice for New Postdocs: "Set specific, well-defined goals." Mullick encourages postdocs to take advantage of a new worksheet called the Individual Development Plan, which will be available from the Postdoctoral Services Office shortly.
Hobbies: Working out in the gym. "I'm also rediscovering surfing after a trip to Hawaii."
Send comments to: mikaono[at]scripps.edu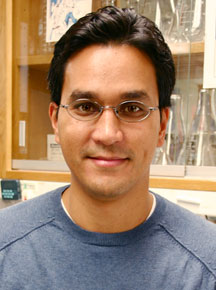 Research Associate Adam Mullick, outgoing president of the Society of Fellows, invites all postdocs and those interested in postdoc issues to attend SOF meetings. "They're the first Thursday of every month, starting at 12 PM, and lunch is provided," he says. New officers will be elected at the regular meeting November 2, in the south fifth floor conference room of Beckman (BCC5S, facing the parking lot).