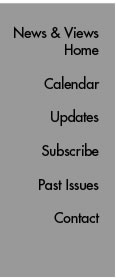 Snapshot:
Hollie Alkema
Position: Human Resources Analyst, Scripps Florida
Responsibilities: Recruiting for Scripps Florida technical and administrative positions—coordinating with principal investigators and administrative assistants, attending career fairs, placing ads, screening candidates, conducting interviews, and making offers. Also, helping to orient new employees, relocate scientists to Florida, and administer employee benefits.
Special Considerations: Following Florida State mandates for hiring, both in terms of advertising and hiring procedures, and in terms of meeting goals for the number of employees at Scripps Florida. "We're aiming to add 60 employees on campus by the end of the year."
Started at Scripps Research: May 2005. "I love it. We're a start-up operation, so every minute there's something new."
Favorite Parts of the Job: "First, working with the investigators—they are wonderful people and I find it personally rewarding to support their research programs. Also, attending recruitment events, where I can touch people's lives and impact their futures." This fall and winter, she plans to attend recruitment events at every major university in Florida, including the University of Florida, Florida State University, Florida A & M, Florida Atlantic University, and the University of Miami.
Biggest Challenge: Finding candidates who are not only experienced and qualified, but also local. "The unemployment rate is low here, so it can be a challenge to find the right match."
Best Resources: "My colleagues in Scripps Florida Human Resources [Director Bruce Heider and Assistant Elixsandra Fernandez] are terrific. I'm also constantly interacting with the Human Resources staff in La Jolla, who provide us with a wealth of knowledge and phenomenal resources.
Background: B.S. in Chemistry from Grand Valley State University in Michigan. Her experience includes work as a chemist and project manager for Entela Inc., an engineering and testing lab in Grand Rapids, MI; as a quality assurance manager for QLAB, in Miami, FL; and as a technical recruiter for Lab Support, a firm in Hollywood, FL.
Outside Work: Enjoying Florida beaches and parks. Also, running an online business that sells gardening and birding supplies—"a great combination of my interests in computers and the outdoors."
Send comments to: mikaono[at]scripps.edu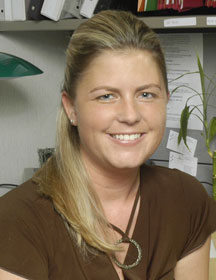 Hollie Alkema says of her job with Scripps Florida Human Resources: "We're a start-up operation, so every minute there's something new."