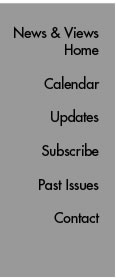 Snapshot:
Deborah Leach-Scampavia
Position: Education and Outreach Administrator, Scripps Florida.
Responsibilities: Overseeing the Scripps Florida education and outreach programs, including exploring new ways to reach out to the community, writing grants, and keeping programs running smoothly. "I'm part scientist, part teacher, part diplomat..."
Scripps Florida Outreach: Current programs include:
A summer internship program that offers hands-on lab experience for high school students and teachers. "This year, we had three teachers and seven students. It was a big success—the participants' final research presentations were impressive and two students are staying on in part-time jobs in their labs."


Science Saturday, a two-and-a-half-hour program focusing on forensic DNA analysis, with a tour of the Scripps Florida facilities. "The tour is especially popular. The kids love seeing the robotics equipment and the chemistry labs." The Science Saturday concept has also spun out to the South Florida Science Museum, which is conducting the workshops with the participation of Scripps Research scientists.


Public talks, lessons, and discussions. Scripps Florida scientists have gone out into the community to give presentations including: "Introduction to Science," teaching middle school students about our world, what it's made of, and how it works; "What is DNA?" showing fifth to seventh grade students what DNA looks like and where it comes from; and "Careers in Biotechnology," informing high and college school students about careers in the biotechnology and pharmaceutical fields.
Favorite Part of the Job: "Meeting the terrific educators in Palm Beach County and helping to target the needs of students. So many people both within Scripps Florida and outside of it have expressed excitement about our programs."
Biggest Challenge: "Balancing the excitement and need for community outreach with a sensitivity to our scientists' other commitments."
Started at Scripps Research: June 2006, in a newly created position.
Background: B.S. in Biology from California State University, Hayward (now East Bay). Some 20 years in the lab, including research in alternative fuels with Chevron Research, and work as a coordinator/research scientist at the National ESCA and Surface Analysis Center for Biomedical Problems in the Department of Bioengineering, University of Washington. Most recently, following her history of volunteer efforts in science education, Education Outreach Coordinator for University of Washington Engineered Biomaterials group.
Outside Activities: Working toward a masters and teaching degree at Barry University in Miami. Spending time with her husband, Louis Scampavia, a Scripps Florida faculty member. Before moving to Florida, participating as a Masters crew competitive rower.
For More Information on Scripps Florida Outreach Programs: See www.scripps.edu/florida or email leach@scripps.edu.
Send comments to: mikaono[at]scripps.edu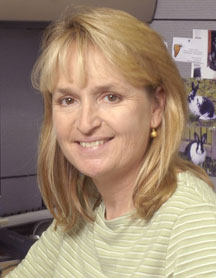 "So many people both within Scripps Florida and outside of it have expressed excitement about our programs," says Deborah Leach-Scampavia, Scripps Florida education and outreach administrator.