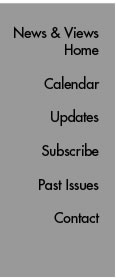 Graduate Program Retreat Looks to Next Generation of Leading Scientists
By Mika Ono
Scientific exchange. Excellence in research. Career development. Those were some of the themes of last week's retreat for graduate students and faculty of The Scripps Research Institute's Kellogg School of Science and Technology, held at the Bahia Resort on San Diego's scenic Mission Bay.
"The level of science at the retreat was as high as you'd find at an international scientific conference anywhere," said Jeffery Kelly, dean of graduate and postgraduate studies. "The quality of our graduate students and their work was on full display."
All Ph.D. candidates who had completed their first year of study made presentations on their research. Seventeen talks and 150 posters explored topics from "Micro-Capillary Crystallization" to "Adventures in Total Synthesis: The Stephacidin Family" and "Kinetics of Amyloidogenesis: Revisiting the Canonical Model."
While most students honed their presentation skills and received valuable feedback on their individual projects, the 42 indviduals in the first-year class received a crash course on the depth and breadth of the science at the institute.
From East to West
The September 8 retreat was especially notable for bringing together the Scripps Research graduate students at the La Jolla, California and Jupiter, Florida campuses. While many of the Florida students had flown across the country to attend the event once before, this time the group included the first Florida entering classman among the Ph.D. candidates who transferred from other programs.
"The retreat was a huge success," said Scripps Florida Associate Dean Bill Roush. "The graduate students from Scripps Florida presented posters, and one (Ricardo Lira) presented a talk. The students have all commented to me about how valuable it was for them to make the trip to San Diego—they greatly enjoyed the opportunity to find out about the research being conducted in the La Jolla labs and to meet their peers on the West Coast… They are excited to be both the pioneers and ambassadors of the Scripps Florida graduate program!"
Ties between the two campuses are also being enhanced this fall with the introduction of two-way, web-based conferencing technology that enables students to "sit in" on classes held on the other campus. This will enable the Florida students to participate in California lectures in real time, as well as open future Florida chemistry classes, such as Asymmetric Synthesis, to interested California students.
The new technology will also facilitate the meeting of thesis committees with faculty on both Scripps Research campuses, in between face-to-face events like the annual retreat.
Career Tips
In addition to the chance to meet peers and exchange ideas, the faculty-student retreat offered students the chance to pick up tips on career development, in settings formal and informal. About 50 Scripps Research faculty members attended the event and chatted with students during poster sessions, at the coffee pot, over lunch, and during the closing reception.
Sandra Schmid, chair of the Department of Cell Biology, took the opportunity to give students a David Letterman-style rendition of the top-ten reasons to go to scientific seminars on campus throughout the year—reasons that also applied to participating in the retreat itself. They were:
To be a scholar,
To meet leading scientists,
To learn the unexpected that could help you in your research,
To learn to engage in meaningful scientific discourse,
To ask questions,
To learn to organize your lab time around other commitments,
To see and be seen by your colleagues,
To see examples of good (and bad) talks,
To efficiently and effortlessly expand your knowledge,
To get your mind off your own problems.
Also, a Kellogg School alumnus addressed the gathering. Mike Berkart (Class of '99), now a faculty member in the Chemistry and Biochemistry Department of the University of California, San Diego, captivated the audience with accounts of his scientific and personal travails. But his take-home message was both upbeat and practical.
"Scripps is a special place to be a graduate student," he said. "[Since] many people are overwhelmed by the process early in their graduate careers, it is essential to have modest, realizable goals in the beginning and to be perseverant in accomplishing them. After all, being a student at Scripps is an opportunity to follow your passion, but attaining self-confidence in your own abilities is critical to success down the line."
And a few students took home an extra boost to their self-confidence with awards announced at the closing reception. Winners for best presentations were: Anne Bunner, Katy Barglow, Ryan Cirz, Kiyomi Komori, and Scott Harrison. Winners for best posters were: Joshua Chappie, Aaron Leconte, Sherry Niessen, and Ryan Shenvi.
"There were many excellent posters and presentations," said Kelly. "My congratulations extend to all participants."
Send comments to: mikaono[at]scripps.edu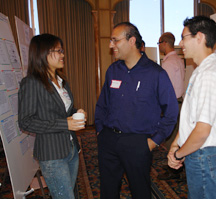 Students chat among the scientific posters. Photo by BioMedical Graphics.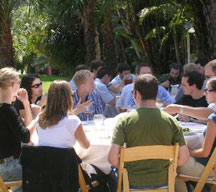 Lunch offers the chance to refuel and connect. Photo by Marylyn Rinaldi/Diane Kreger.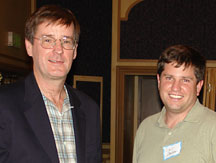 Scripps Florida Associate Dean William Roush (left) and Scripps California Associate Professor Phil Dawson (Kellogg School Class of '96) are among the faculty at the retreat. Photos by BioMedical Graphics.