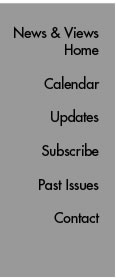 Scripps Research, McDonald's Align to Fight Childhood Obesity and Type 2 Diabetes
The Scripps Research Institute and McDonald's have announced a collaboration regarding research and educational initiatives to drive progress toward a solution to childhood obesity and Type 2 diabetes. McDonald's will contribute $2 million to Scripps Research to address these critical health issues facing America's youth.
"More than 13 percent of children and adolescents in the United States are overweight and the number is growing at a critical rate," said Richard A. Lerner, president of Scripps Research. "With obesity often comes debilitating, even fatal Type 2 diabetes. These are epidemics that America cannot ignore. The McDonald's and Scripps Research alignment represents advancement in the effort to change the landscape of these severe pediatric health issues, and to find solutions that will benefit future generations of healthy adults in America."
"McDonald's overall goal is to make a difference in the lives of children," said Ralph Alvarez, president and chief operating officer, McDonald's Corporation. "The collaboration with Scripps Research is an extension of McDonald's long-standing commitment to the well-being of children around the world."
The biomedical research will be under the auspices of the newly created McDonald's Center for Type 2 Diabetes and Obesity.
Guiding the initiative for Scripps Research is Professor Katja Van Herle, a physician and director of the institute's Department of Community Outreach and Education. "As both a scientist and a mom, I understand, first-hand, the issues that face our children today," she said. "Additional research, increased awareness and education, and monitoring the disease are essential for finding a long-term solution."
The announcement was made in conjunction with the annual donor appreciation dinner on Wednesday, September 13, which celebrated major donors to Scripps Research. In attendance at the event, held in the Beckman atrium on the La Jolla campus, were some 150 people.
These included: Helen Dorris, founder of both the Helen L. Dorris Child and Adolescent Neuropsychiatric Disorder Institute and the Harold L. Dorris Neurological Institute at Scripps Research; Jean Kellogg, whose gift with her late husband Keith supports the Scripps Research Kellogg School of Science and Technology; Claudia Lutrell, a trustee and a member of the Skaggs family, which donated $100 million to found The Skaggs Institute for Chemical Biology and which established the Skaggs Oxford Scholarships; Andrew Viterbi, and his wife, Erna, whose $2 million contribution supports state-of-the-art translational cancer research; Marjorie Fink, a Palm Beach County resident who donated $1
million to the institute; and John Moores, whose gifts to Scripps Research, which total more than $22 million, have established the Institute for Childhood and Neglected Diseases as well as the Worm Institute for Research and Medicine.
At the gathering, Moores, who became chair of the Scripps Research Board of Trustees earlier this year, underlined the importance of philanthropy to the science at the institute. "I'd like to thank all of you for your generosity in making The Scripps Research Institute a first-class scientific organization," he said to the many Scripps Research supporters there. "Your very significant, and continuing, financial contributions have helped support our important scientific work and bring us to the top echelon of biomedical research. In addition, your commitment of resources has permitted us to expand our collaborative work and further our private sector partnerships-like the one we're announcing this evening with McDonald's. These initiatives have brought increased recognition and visibility to us and the important work we do."
Send comments to: mikaono[at]scripps.edu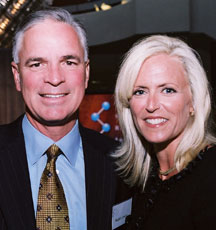 Ralph Alvarez, president and CEO of McDonald's, poses with Katja Van Herle, director of the Scripps Research Department of Community Outreach and Education, at the Scripps Research Annual Donor Appreciation Dinner. Photo by Carol Sonstein.