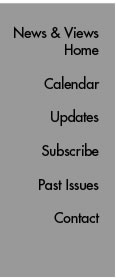 Etcetera
Sherry Niessen Wins Career Development Award
Sherry Niessen, Ph.D. candidate in The Scripps Research Institute's Kellogg School of Science and Technology, has won a two-year Career Development Award from the California Breast Cancer Research Program, administered by the University of California. The California Breast Cancer Research Program funds work that is innovative and responsive to the concerns of the breast cancer constituency in California. Sherry Niessen will carry out her project, entitled "The Role of Serine and Metallo-Hydrolase's in Breast Cancer," in the Cravatt lab.

Jessica Raushel Selected for Novartis Fellowship
Jessica Raushel, Kellogg School Ph.D. candidate working in the Sharpless lab, has been selected as the recipient of the Novartis Graduate Fellowship in Organic Chemistry for Minorities and Women, which is awarded to a student of "high quality and high potential." The fellowship from the Novartis Institutes of Biomedical Research, Inc., encourages women and minorities to continue in the field of organic chemistry.
Send comments to: mikaono[at]scripps.edu


Volunteers Teach Girls About DNA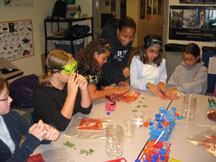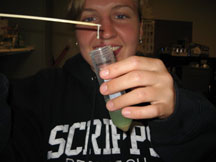 Tracey Jackson and Sarah Voytek, Ph.D. candidates in the Scripps Research Kellogg School, volunteer at Genetics Day, part of a Reuben Fleet Science Center summer camp "Women Scientists in Action" for fifth and sixth grade girls. Top: Jackson helps campers smash strawberries in zip-lock bags. Bottom: Voytek spools out the DNA from the smashed strawberries for further analysis.