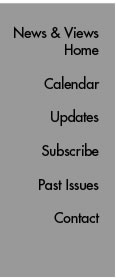 Snapshot:
Linda Lukasiewicz
Position: Recruiter, Human Resources Department.
Responsibilities: Recruiting candidates for administrative and other support positions, including interviewing, screening, and referring qualified candidates to hiring departments. The position involves working closely with Scripps Research hiring managers on position requirements, references, employment offers, and hiring decisions. It also involves placing advertisements, attending local career fairs, assisting with special projects, and keeping abreast of changing employment laws and policies.
Started at Scripps Research: In 2001. She first worked as an administrative assistant in the Paulson lab; then, beginning in June of 2003, as an employment assistant in Human Resources; and now, as a recruiter.
Thoughts on Her New Role: "I'm really excited to begin my new role as a recruiter. The great thing about this position is that I will be helping people on both ends—both hiring managers and job candidates. My goal is to make great matches."
What Attracted Her to Scripps Research: "I am proud to work for an organization that makes a positive contribution to society."
Favorite Part of Her Job: "The people!"
Background: B.A. in Economics from the University of California, Irvine. Fifteen years as a freelance graphic artist in Irvine. Worked as a project analyst with a San Diego consulting company before coming to Scripps Research.
Extracurriculars: Interests include travel, following her favorite college football and basketball teams, volunteering for church and community activities, and spending time with friends and family—especially her husband Ron, a chemist in the petroleum industry; her daughter, Chrissie, a middle school language arts teacher; and her son Randy, who is completing his Ph.D. in Biochemistry at the University of California, San Diego.
Send comments to: mikaono[at]scripps.edu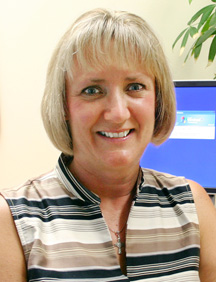 "I am proud to work for an organization that makes a positive contribution to society," says Linda Lukasiewicz, who is now a recruiter in Human Resources.