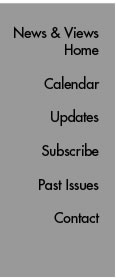 Etcetera
Lindsey Macpherson Wins NIH Kirschestein Award
Lindsey Macpherson, a Ph.D. candidate in the Scripps Research Kellogg School , has been awarded a Ruth L. Kirschstein National Research Service Award from the National Institutes of Health. According to the NIH, the purpose of the award "is to help ensure that highly trained physician/scientists will be available in adequate numbers and in the appropriate research areas and fields to meet the nation's mental health, drug abuse and addiction, alcohol abuse and alcoholism and environmental health sciences research needs." Macpherson's work in the Patapoutian lab focuses on the mechanisms of activation of thermosensitive TRP ion channels. She is especially interested in TRPA1, a channel expressed in sensory neurons that is activated by noxious cold temperatures as well as a variety of pungent natural compounds such as allicin and mustard oil, the chemicals responsible for the pungency of raw garlic and wasabi.

Katherine Marcucci Awarded American Heart Association Fellowship
Katherine Marcucci, a Ph.D. candidate in The Scripps Research Institute's Kellogg School of Science and Technology who is working in the Salomon lab, has won a fellowship from the American Heart Association. Her project is titled, "Investigating the role of late domains in Porcine Endogenous Retrovirus (PERV)."

Fundraising Event: "An Intimate Evening with Craig Chaquico"
Craig Chaquico, the renowned lead guitarist of Jefferson Airplane/Starship and acclaimed contemporary instrumental artist, will perform at a dinner on August 13 to benefit the Molly Baber Research Fund at The Scripps Research Institute. The intimate event, from 6 to 10 PM, will feature a multi-station dinner under the stars at the Bernardo Heights Country Club, as well as an auction of a Craig Chaquico Model Carvin Guitar.
Craig Chaquico has engaged and inspired two generations of pop music fans as the leadguitaristand most prolific principal song writer for Jefferson Airplane/Starship and, with 20 Gold records combined among the Jefferson Airplane, Jefferson Starship, and Starship, he was instrumental in making that combination one of the most successfulbands in history. Recently Craig reinvented himself as anaward winning solo contemporary instrumental artist, songwriter, producer, and band leader.
Proceeds from the evening will benefit the Molly Baber Research Fund for Diabetes and Transplantation Medicine at The Scripps Research Institute. The fund, created in 2004 by Mark Baber in honor of his late wife, enables the improvement of health through the research of Daniel R. Salomon, M.D., at The Scripps Research Institute. The Salomon laboratory is focused on using the latest technologies to advance genomic medicine in transplantation. Transplantation of organs such as kidneys, livers, hearts and lungs save thousands of lives every year. Dr. Salomon's studies involve patients with kidney and liver transplants and diseases such as diabetes, hepatitis and cancer.
Tickets range from $175 to $275, with a portion tax deductible. To purchase tickets by credit card (Visa, Mastercard, American Express), call Ginny Deary at (858) 784-9367, or Jennifer Rothrock at (858) 784-8921. To purchase tickets via check, send your check payable to The Scripps Research Institute by August 4, 2006 to: The Scripps Research Institute, 10550 N. Torrey Pines Road, TPC-2, La Jolla, CA 92037, ATTN: Ginny Deary/Jennifer Rothrock.
For additional information on the event—which is sponsored by Carvin Guitars, Ketel One Vodka, Martinis Above Fourth, and Dowling & Yahnke, Inc.—contact Elliot Wolf at The Scripps Research Institute, (858) 784-2721, elliotw@scripps.edu, or visit http://www.scripps.edu/philanthropy/mollybaber.html.
Send comments to: mikaono[at]scripps.edu