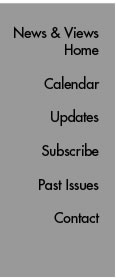 Etcetera
Layton Smith Wins Florida Grant
Layton Smith, associate director of pharmacology at Scripps Florida's Department of Drug Discovery, has been awarded a James & Esther King Biomedical Research grant from the Florida Department of Health—the State of Florida's first research grant to Scripps Florida. The three-year grant, awarded on the basis of scientific merit, will fund a project entitled, "The interaction between apelin and the rennin-angiotensin-aldosterone system."
Young Soo Kim Awarded KUSCO/KSEA Scholarship
Young Soo Kim, a graduate student in the Janda lab, has won a Korea-U.S. Science Cooperation Center / Korean-American Scientists and Engineering Association Scholarship, which includes a cash prize and travel fees to a conference in New York in August, where he will receive the award. He is currently working on cancer therapy and anti-warfare agent studies.
Fundraising Event: "An Intimate Evening with Craig Chaquico"
A dinner and concert by musician Craig Chaquico will be held Sunday, August 13, from 6 to 10 PM to benefit the Molly Baber Research Fund at Scripps Research, which supports investigations on the latest technologies to advance genomic medicine in transplantation. Craig Chaquico, well known to many as the lead guitarist and principle songwriter for Jefferson Airplane/Starship, has 20 gold records to his name. Tickets to the elegant event, which will be held at the Bernardo Heights Country Club, California, range from $175 to $275 per person (discounts for a table of 10). For more information, visit the event web page or contact Elliot Wolf, elliotw@scripps.edu or (858) 784-2721.
Send comments to: mikaono[at]scripps.edu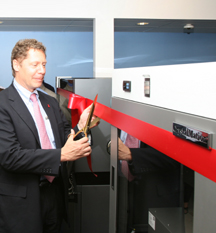 Ribbon-Cutting Celebrates Robotics Facility
Seth Berkley, president and CEO of the International AIDS Vaccine Initiative (IAVI), cuts the ribbon for Scripps Research's new robotics crystallization facility at 3040 Science Park Drive, La Jolla California. IAVI helped fund the project because of its potential for solving structures related to the effort to create an HIV vaccine. For more information, see News&Views story "Structures on the Fast Track."(Photo by Skip O'Donnell.)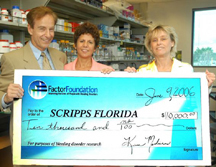 Factor Foundation Supports Blood Disorder Research
Kim Madeiros (right), executive director of Factor Foundation of America, presents the proceeds of a recent fundraising event at the Moroso Motorsports Park, represented by its road course manager Donna Krammer (center). Will Ray, Scripps Research vice president for development, receives the $10,000 check, which will support cutting-edge research at Scripps Florida on human blood disorders, such as hemophilia. (Photo by Bruce Hibbs.)