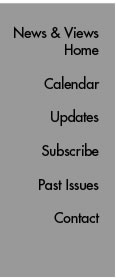 Etcetera
Jeff Lee Wins Governor General's Gold Medal
Research Associate Jeff Lee of the Ollmann Saphire lab has won the Canadian Governor General's Gold Medal, awarded to the student with the highest academic standing in a graduate program. Lee, who completed Ph.D. work with Lynne Howell at the University of Toronto, wrote a thesis entitled "Structural and functional studies of 5'-methylthioadenosine/S-adenosylhomocysteine nucleosidase." During his graduate studies, Lee published nine papers and won three poster awards.

David Horning Awarded Hertz Foundation Fellowship
David Horning, a member of the Kellogg School of Science and Technology's entering class, has been awarded a Hertz Foundation Fellowship. The fellowship aims to support the graduate education of America's most promising technical talent, the Ph.D.-directed effort of the young men and women who can be expected to have the greatest impact on the application of the physical sciences to human problems during the next half-century. The award is highly competitive, with only about one in 50 applicants making the final selection.

Fundraising Event: "An Intimate Evening with Craig Chaquico"
A dinner and concert by musician Craig Chaquico will be held Sunday, August 13, from 6 to 10 PM to benefit the Molly Baber Research Fund at Scripps Research, which supports investigations on the latest technologies to advance genomic medicine in transplantation. Craig Chaquico, well known to many as the lead guitarist and principal songwriter for Jefferson Airplane/Starship, has 20 gold records to his name. Tickets to the elegant event, which will be held at the Bernardo Heights Country Club, California, range from $175 to $275 per person (discounts for a table of 10). For more information, visit the event web page or contact Elliot Wolf, elliotw@scripps.edu or 4-2721.

La Jolla Campus to Host Job Fair
Scripps Research's La Jolla campus will present a career fair on Wednesday, June 7, from 10 AM to 2 PM in the Beckman Center Galleria. Scripps Research personnel from both lab and service departments will be on hand to answer questions about their work. Lab tours will leave every half hour. Scripps Research Human Resources personnel will offer tips on improving interviewing and resume writing skills in workshops at 10:30 AM and 12:30 PM. For more information about the event, see the Career Fair 2006 web page. If you're an employee interested in volunteering, contact Ryan Taylor, ryant@scripps.edu or x4-8641.
Send comments to: mikaono[at]scripps.edu


Reception Congratulates Norman Klinman on Retirement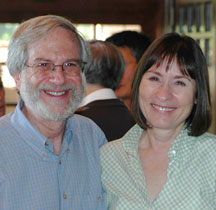 A reception honored retiring Professor Norman Klinman, who has been a member of the Department of Immunology faculty since 1978. Many faculty and staff attended to thank Klinman for his contributions to the field of immunology, the training of the next generation of scientists, and the development of the institute's La Jolla campus. Here, Klinman poses with his wife, Scripps Research Professor Linda Sherman. For more information on Klinman, see his faculty web page.