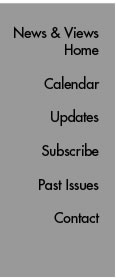 In Brief

Claire Fraser to Speak in Distinguished Lecturer Series
Claire Fraser, president, director, and investigator at The Institute for Genomic Research, will speak on "Microbial Genomics: Insights Into Pathogen Biology and Evolution" on May 22, from 5:15 to 6:15 PM, as part of the Society of Fellows Distinguished Lecturer Series. The event will be held in the Timken Amphitheater, Green Hospital. For more information, see the Society of Fellows web site.

Vendor Show Features More than 100 Companies
The annual Society of Fellows Vendor Show will be held Tuesday, May 16, from 9 AM to 2:30 PM. More than 100 companies will be on campus in and around the Immunology, Molecular Biology, and Beckman Buildings. At the vendor show, you can catch up on the latest technologies, ask questions and get advice from the company representatives, get a FREE Jamba JuiceTM, and enter to win one of five $100 Gift Certificates to a Westfield ShoppingtownTM. For more information, see the Society of Fellows web site.

Health Fair Heads Up
The annual Scripps Research Health Fair is coming up on Wednesday, May 24, from 11 AM to 1 PM. The health fair, which will be held on the walkway in front of the Immunology building, will address a variety of health and wellness topics including fitness, nutrition, safety, and more. There will be health and wellness screenings, fitness and recreation demonstrations, chair massages, giveaways, and food samples from local restaurants. The Benefits Department invites all Scripps Research employees and graduate students to participate in this fun and educational event.

Tired of Gas Prices? Try Bike to Work Day
Bike to Work Day 2006 will be held Friday, May 19. Visit RideLink.org to register, get current information, and prepare for the ride. Registrants will be entered for a chance to win prices from event sponsors, who include the Metropolitan Transit System, the San Diego Zoo and Wild Animal Park, NuVinci, the Air Pollution Control District of the County of San Diego, the San Diego County Credit Union, Cliff Bar, and Qualcomm. Or call 1-800-COMMUTE (266-6883), option 3, for more information.

Library Tip: Training and Guides
Want to learn more about a particular library resource but don't have a lot of time trying to figure it out by yourself? Let the library help! We have started a collection of library guides located on the library's web page under "Training & Guides."
Currently, the library offers guides on how to use alerting services such as TDNet and PubMed's MyNCBI, handouts on how to use Endote and Reference Manager, and tips on using the features of ISI Web of Science (Science Citation Index). More guides are in the works so check back often to see new content. Or let us know what guides would be most useful to you. For more information, contact the Kresge Library Help Desk, x4-8705 or helplib@scripps.edu.
Send comments to: mikaono[at]scripps.edu