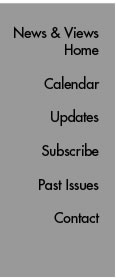 Kudos
Erica Ollmann Saphire Wins Young Investigator Award
Assistant Professor Erica Ollmann Saphire of The Scripps Research Institute's Department of Immunology has won a young investigator award from the American Society for Microbiology in recognition of research excellence and potential in microbiology and infectious diseases. Supported in part by an unrestricted educational grant from Merck, the award supports travel to the Interscience Conference on Antimicrobial Agents and Chemotherapy (ICAAC), where the award will be presented in the fall.
Ollmann Saphire combines x-ray crystallography, biochemistry, and immunology to analyze proteins that play key roles in the pathogenesis of Ebola and other viral hemorrhagic fevers; structures of these proteins provide templates for vaccine design and enable rapid responses to newly emerging forms of the viruses. For more information on her work, see her lab's web site .

Stuart Webb Awarded NIH Fellowship
Stuart Webb, a third-year graduate student in the Mueller lab, has won a three-year fellowship from the National Institute on Deafness and Other Communication Disorders of the National Institutes of Health (NIH). The title of his project is "Cdh23 Splicing in Hair Cell Development and Function."
Send comments to: mikaono[at]scripps.edu

French Ambassador Visits Campus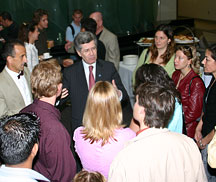 French Ambassador to the U.S. Jean-David Levitte (center) discusses education, jobs, and biotech development with Scripps Research students, postdocs, and faculty from France in the Beckman Atrium during a brief visit last Saturday morning. Associate Professor Luc Teyton (on the Ambassador's right) hosted a reception following the Ambassador's tour of the Sharpless Lab with Assistant Professor Valery Fokin. Photo by Kevin Fung.