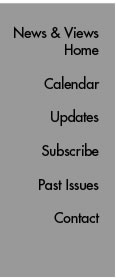 EH&S Helps Spread the Word About New California Law
By Mika Ono
There's a new law in town—one that means you can no longer dispose of some everyday items like batteries, televisions, and fluorescent light bulbs with your household trash.
"California has tightened up its regulations," says Safety Coordinator David Hinton of The Scripps Research Institute's Environmental Health and Safety Department. "Now, products containing even small amounts of mercury or heavy metals need to be recycled or disposed of through special county programs."
While as a biomedical research institution Scripps Research has been following stringent waste disposal guidelines for years, California employees must now follow special procedures at home as well.
Environmental Health and Safety is raising awareness about the new home guidelines, which went into effect on February 9 of this year, as a public service. And when Hinton explored the topic at last month's Safety Officer's meeting for the La Jolla campus, group members were eager to learn more.
Which items are affected by the new law? A surprisingly wide variety falls under the affected category, termed "universal waste":
Batteries, including AA, AAA, C cells, D cells, and button cell batteries found in watches and toys;
Electronic devices, including computer monitors, TVs, cell phones, pagers, printers, computer towers, VCRs, telephones, radios, and microwave ovens;
Fluorescent light bulbs and high intensity discharge lamps;
Anything containing mercury, including thermometers, thermostats, and appliances with mercury switches (many ovens, water heaters, space heaters, and clothes dryers).
Non-empty aerosol cans.
Even Hinton was surprised by a few things that turn up in the "universal waste" category—light-up soles in kids' shoes, for example, were manufactured with devices containing mercury before 1997. Musical greeting cards also contain small amounts of mercury.
At the institute's campuses, Environmental Health and Safety and other departments make proper waste disposal easy. Fluorescent bulbs are routinely recycled when they are replaced. Lab members are freeto leave "universal waste" items for pickup using the system in place for hazardous waste. Office workers on the La Jolla campus can call the Waste Line at x4-4093 to arrange pickup for items such as batteries. On the Florida campus, contact Tom Bradley, (561) 799-8948.
At home, however, San Diego County residents now need to expend more effort to dispose of affected items, transporting them to a disposal center, such as the one at Miramar landfill. Facilities are also available in Poway, Escondido, Carlsbad, and La Mesa. Although many "universal waste" items are ultimately destined for recycling, they are not accepted in the county's blue recycling bins.
"The new California law is designed to help protect our environment and our safety," says Hinton. "I encourage people to take the time to learn about their waste disposal options."
More information is available from:
San Diego County's Household Hazardous Waste Hotline, 877-713-2784.
For more information about the Scripps Research Environmental Health and Safety Department, visit the department's web site or call x4-8462.
Send comments to: mikaono[at]scripps.edu

---
"...Models with genetic predisposition for high levels of alcohol consumption have consistent and reproducible differences in brain gene expression."
—George Koob
---