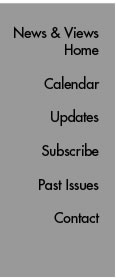 Kudos
Charles Weissmann Honored by Biotechnology Study Center
Professor Charles Weissman, chair of the Department of Infectology, Scripps Florida, has been selected to receive the prestigious DART/NYU Biotechnology Achievement Award from the Biotechnology Study Center of the New York University School of Medicine. He is being cited for his elucidation of multiple interferon genes and the pharmaceutical development of Intron A (interferon alpha2b).
The Dart/NYU Biotechnology Achievement Awards recognize the role of leaders who pursue pure science in the development of pharmaceuticals, and particularly honor those scientists whose work has led to major advances at the bedside.
Charles Weissmann began his career with doctoral degrees in both medicine and organic chemistry from Zurich University, and then turned to the new field of molecular biology where he was recognized as one of the most creative investigators over several decades. He contributed to the first cloning of alpha-interferon genes, the elucidation of the life cycle of bacteriophages, the development of site-directed mutagenesis, and the regulation of red blood cell components.
In recent years, Professor Weissmann has made breakthroughs in the investigation of diseases induced by prions (small proteinaceous infectious particles that resist inactivation by procedures that modify nucleic acids) that affect animals, such as mad cow disease, and humans, for example Creutzfeld-Jacob disease.
Other neurobiology and cognition pioneers being honored at the April 24 awards symposium are Jean-Pierre Changeux, a member of the Scripps Reserch Board of Scientific Governors, and Eric Kandel. Previous Dart/NYU Biotechnology Achievement Award winners include Scripps Research President Richard Lerner, who was cited in 2005 for his discoveries in the field of immunochemistry.

Bruce Beutler Wins Coley Award
Professor Bruce Beutler has been selected to receive the Cancer Research Institute's 2006 William B. Coley Award for Distinguished Research in Basic Immunology. He shares this honor with Shizuo Akira for their contribution to our understanding of the events leading to the initiation of innate immunity.
Beutler, who holds a B.S. from the University of California, San Diego, and an M.D. from the University of Chicago, uses a technique called forward genetics to study human genes used by the innate immune system to clear pathogens from the body. Beutler is credited with the identification of the key receptors that inform the body when an infection is present. The same receptors also initiate inflammation and shock when an infection becomes widespread.
In 2003, Beutler and his Scripps Research colleague Kasper Hoebe identified a protein called Lps2, now also known as Trif, which helps the body respond to viruses and bacteria. This was the first time that anyone had identified a signaling protein directly activated by innate immune system receptors when they recognize either bacteria or viruses. In 2004, Beutler, Hoebe, and colleagues identified still another component of the innate immune recognition apparatus- a protein called CD36. Other recent findings from Beutler's lab include the discovery of a protein known as UNC-93B: a key element in both innate and adaptive immune responses. Mutations in each of these proteins may lead to immunocompromise in humans, and may ultimately be responsible for susceptibility to many different infectious diseases.
The 2006 award ceremony will be held at The Rainbow Room in New York City on June 27. Previous winners of the Coley Award, which recognizes outstanding achievements in basic and tumor immunology, include Scripps Research President Richard Lerner, who was honored in 1999.

Send comments to: mikaono[at]scripps.edu


Endeavor Captures 2006 Crystal Award of Excellence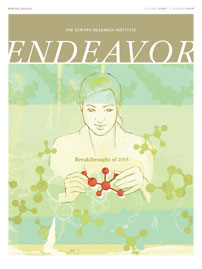 For the third year in a row, Scripps Research's Endeavor magazine has won the top honor from the 2006 Communicator Awards, an international awards competition that recognizes outstanding work in the field. The 5,200 entries were judged by industry professionals looking for "companies and individuals whose talent exceeds a high standard of excellence and whose work serves as a benchmark for the industry."