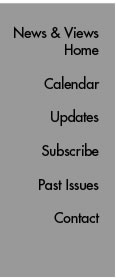 In Brief

John Griffin to Speak in Faculty Lecture Series
Professor John Griffin will speak on "Antithrombotic Protein C—Translational Research" as part of the Faculty Lecture Series Wednesday, April 12. The lecture will be held at 5 PM in the Timken Amphitheater, Scripps Clinic, 10666 North Torrey Pines Road.

Library Tip: Visualizing Structures
The journal Nature Structural & Molecular Biology has a new structural visualization tool called "FirstGlance," which allows you to see molecules in three-dimensions. Articles with this new feature include a "3D View" link in the table of contents. You can click this link to open a new window with the structure, which you will be able to rotate and spin. Amino acids and their position number are available by clicking on them. Links to the Protein Data Bank, the Macromolecular Structure Database, and the OCA Atlas provide additional information about the molecule. Supported browers include Internet Explorer and Firefox on Windows and Safari and Firefox on Mac. For more information, contact the Kresge Library Help Desk, x4-8705 or helplib@scripps.edu.

Benefits Correction: 2005 Healthcare and Dependent Care Spending Account Deadlines
If you participated in the Healthcare Spending Account (HCSA) during the 2005 plan year and still have a balance in your 2005 Healthcare Spending Account, March 15, 2006 is the deadline for incurring claims for the 2005 plan year. You have until June 30, 2006 to submit your claims for reimbursement to Principal.
If you participated in the Dependent Care Spending Account (DCSA) during the 2005 plan year, please remember that March 31, 2006 is the deadline to submit your DCSA claims to Principal for the 2005 plan year.
Principal claim forms are available on the Scripps Research Benefits website, in the front lobby of Human Resources between 8 AM and 5 PM, or by requesting them from Benefits Administration, x4-8487 or benefits@scripps.edu.

News&Views Goes on Spring Break
News&Views will not be published next week in honor of Spring Break. Weekly publication will resume on Monday, April 24.
Send comments to: mikaono[at]scripps.edu

Inspiring Teachers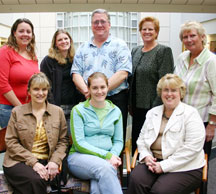 Eight enthusiastic teachers arrived on the La Jolla campus on Thursday for the Scripps Research Science Partnership Scholars Program, which provides a series of seminars and hands-on activities to inspire lively teaching of current topics in the classroom.