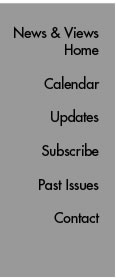 In Brief
Postdoctoral Services Updates Web Site
The Scripps Research Postdoctoral Services Office has launched a new web site to provide more accessible and comprehensive information on postdoctoral services at the institute. "We feature news and events on our home page, and in general the information we present is easier to get to," says Postdoctoral Services Coordinator Ryan Wheeler. Visit the revised Postdoctoral Services web site at http://www.scripps.edu/services/postdocs/.

Library Tip: Training Classes
The Kresge Library has begun offering training classes on topics of interest to faculty, students, postdocs, technicians, and staff. Classes are currently scheduled on Reference Manager 11, EndNote 9 Basics, and basic search techniques. Classes are held in the computer training room 310 in Building 3377, unless otherwise noted. For dates, times, and additional information, including handouts, go to the Kresge Library's Library Training & Guides web page. Please check the computer OS system availability (Mac or PC) when registering, as some classes are for Mac or PC only. If you have questions, please contact Angela Murrell, x4-8705 or helplib@scripps.edu.

Scripps Research Sweatshirts, T-Shirts, Pullovers, and More
Cool nights or a brisk wind off the ocean can call for a thick pullover or hooded sweatshirt. What better way to bundle up than with Scripps Research wear?
Merchandise from the Scripps Research store includes:
T-shirts in white and black, $10
Women's fitted crew-neck tee in black, white, and navy blue, $11
Women's V-neck tee in white, black, and navy blue, $20
Men's polo in navy blue, $25
Crew-neck sweatshirts in white, gray, and black, $15
Men's hooded pullover sweatshirt in navy blue, $30
Women's full zip hooded sweatshirt in navy blue, $30
Unisex zip fleece pullover in black, $30
Baseball hats in black or navy blue, $10
To make a purchase, drop by the Human Resources Department, 3377 N. Torrey Pines Court, second floor, between 8 AM and 5 PM. Cash or checks only.

New Permanent Location for Onsite Clinics
On Monday, March 20, Wednesday, March 22, and Friday, March 24, personnel from Sharp Rees-Stealy Medical Group will be on-site to conduct TB screenings, Hepatitis B immunizations, serum draws, and tetanus immunizations.
The clinics will be conducted in the 3366 Building, in Room 325, on the third floor, from 11 AM to 2 PM on Monday, Wednesday, and Friday. This will be the new permanent location for the on-site clinics.
No appointments are necessary. TB screening requires a 48 to 72 hour follow-up. Individuals receiving the TB screen on Monday will need to return on Wednesday, and individuals screened on Wednesday, will need to return on Friday. Initiation of the TB screening process will not be available on Friday, but Hepatitis B immunization, serum draws, and tetanus immunizations will be. To learn more about these programs, see the Environmental Health & Safety Occupational Medicine web page, which includes a map and patient information sheets.
Send comments to: mikaono[at]scripps.edu