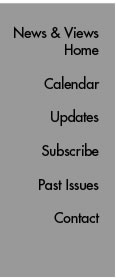 In Brief

Havran to Speak in Faculty Lecture Series
Associate Professor Wendy Havran will speak on "Crosstalk Between T Cells and Epithelial Cells" on Wednesday, March 8, as part of the Faculty Lecture Series. The lecture will be held at 5 PM in the Timken Amphitheater, Scripps Clinic, La Jolla.

Library Tip: Dissertations and Theses
The Kresge Library offers the ProQuest Digital Dissertations Current Research database for full-text access to dissertations completed at the Scripps Research Kellogg School of Science and Technology. You can search by author, advisor, or keyword. Dissertations are available as a PDF download from 1996 forward. The link to PQDD Current Research is found on the Kresge Library's catalog web page underneath the search box, as well as on the database list. Print copies of Scripps Research dissertations are housed in the Kresge Library for additional browsing.
If you are looking for a dissertation from another institution, you can also use the ProQuest Digital Dissertations. Full-text access is not free, but available for purchase. Browse by name of the institution or its location. A preview of 24 pages is allowed. To keep up-to-date with new dissertations from any institution in the database, sign up for an RSS feed. You can also request dissertations from other institutions through the Kresge Library's ILLiad system, but not all institutions will loan them.
For more information, contact the Kresge Library Help Desk, x4-8705 or helplib@scripps.edu.
Send comments to: mikaono[at]scripps.edu


Florida Candidates Join Prospective Students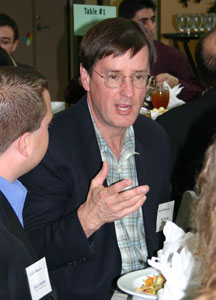 Some 135 prospective graduate students are visiting Scripps Research over the next three weeks, including for the first time those interested in studying on the institute's Florida campus. "I'm encouraged by the initial response," says Scripps Florida Professor and Associate Dean Bill Roush. "It is clear that the first students that we recruit to Florida will be of exceptional quality." Here, Roush chats with prospective students at a February 24 luncheon on the La Jolla campus.