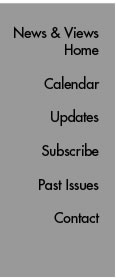 Scripps Florida Launches Volunteers Group
By Mika Ono
On the La Jolla campus of The Scripps Research Institute, employee volunteer group ScrippsAssists contributes to the local community—cleaning trails on the Torrey Pines State Reserve, visiting seniors, and participating in fundraisers for the American Cancer Society.
Now, members of the institute's Palm Beach County campus have followed suit by launching their own volunteer group—ScrippsAssists Florida.
On Saturday, January 21, some 20 Scripps Florida scientists and staff ventured out on their first volunteer mission—working with Habitat for Humanity to create simple, decent housing in partnership with people in need. The Scripps Florida group spent the day priming and painting the interior of a three-bedroom house in Riviera Beach.
"The project was a great success," says Candace Walker, program administrator, who organized the expedition, "and it was gratifying to be able to help."
Walker, who brought sandwiches and soda to feed the hungry crew, also noted that with so many volunteers, the task was completed quickly. Working together, the group primed the entire interior in an hour and a half, then finished the job with a final coat of paint in a few additional hours.
Marilena Fernandez, an administrative assistant in the Infectology Department, comments, "The outing was fun—hard work that I think left us all with a feeling of satisfaction and fulfillment. The most rewarding moment came when the future owner of the house, Tracy, stopped by after work to thank all the participants there. Her obvious gratitude made the sore muscles and paint in my hair worth it!"
Volunteers with ScrippsAssists Florida plan ongoing projects in the community. For more information, contact Walker at 561-799-8945 or cwalker@scripps.edu.
Send comments to: mikaono[at]scripps.edu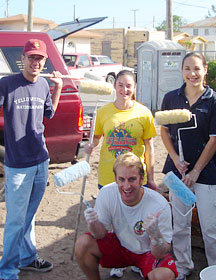 Research Assistant Brandon Young (front), Research Associate Kevin Hayes, Research Assistant Aimee Weiser, and Manager Emily Wu (back, left to right) helped paint a house—ScrippsAssists Florida's first project.