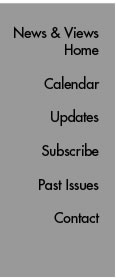 In Brief

George Koob to Speak in Faculty Lecture Series
Scripps Research Professor George Koob will speak on "The Neurocircuity of Drug Addiction: Neuroadaptive Mechanisms from the Dark Side" as part of the
ongoing Faculty Lecture Series on Wednesday, February 8. The lecture will be held at 5 PM in the Timken Amphitheater, Scripps Clinic, La Jolla.

Library Tip: Free Trials
The Kresge Library offers numerous free trials to journals and databases throughout the year to gauge institute interest and to provide additional access beyond our subscribed resources. Check out the "Free Trials" link on the Kresge Library's homepage for updated and ongoing trials. Presently, the library is trialing BioMed Central's Current Drugs journals (Current Opinion in Drug Discovery & Development, Current Opinion in Investigational Drugs and IDrugs: The Investigational Drugs Journal) as well as the full title list from Mary Ann Liebert Publishers. For more information, contact the Kresge Library Help Desk, x4-8705 or helplib@scripps.edu.

Cartoonist Draws on "The Power of Procrastination"
Jorge Cham, creator of the popular comic strip "Piled Higher and Deeper" (PHD), will give a lecture and host a book signing on the La Jolla campus on Wednesday, February 8 at 1 PM. In this talk, Jorge Cham will recount his experiences bringing humor into the lives of stressed out academics, examine the source of their anxieties, and explore the guilt, the myth, and the power of procrastination. Life Is Tough and Then You Graduate, the second collection of PHD comics to date, was published in April 2005. This event, which will be held in the Keck Amphitheater of the Beckman Building, is sponsored by Postdoctoral Services Office, Scripps Research Graduate Program, and Society of Fellows.

Temporary Times and Location for February Onsite Clinics
On Monday, February 13, Wednesday, February 15, and Friday, February 17, personnel from Sharp Rees-Stealy Medical Group will be on-site to conduct TB screenings, hepatitis B immunizations, serum draws, and tetanus immunizations.
For the month of February only, the clinics will be conducted in the Human Resources Large Conference Room, located in the 3377 Building, Suite 200. On Monday and Friday, the clinic will be open from 11 AM to 2 PM. On Wednesday, the clinic will close one hour early, running from 11AM to 1PM.
No appointments are necessary. TB screening requires a 48 to 72 hour follow-up. Individuals receiving the TB screen on Monday will need to return on Wednesday, and individuals screened on Wednesday, will need to return on Friday. Initiation of the TB screening process will not be available on Friday, but hepatitis B immunization, serum draws, and tetanus immunizations will be. To learn more about these programs, see the Environmental Health & Safety Occupational Medicine web page, which includes a map and patient information sheets.
Send comments to: mikaono[at]scripps.edu

Anna Martin Retires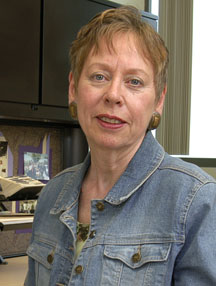 Senior Administrative Assistant Anna Martin of the Department of Molecular and Experimental Medicine is retiring after more than a quarter century of service to Scripps Research. Good luck, Anna!