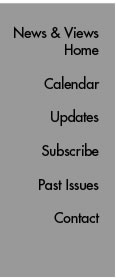 In Brief
SOF Distinguished Lecturer Series to Feature Stanley Plotkin
Stanley A. Plotkin, emeritus professor of the University of Pennsylvania and executive advisor to Sanofi Pasteur, will speak on "The Past, Present and Future of Vaccinology" on Monday, January 30 at 4 PM, on the La Jolla campus. The event, which will be held in the Timken Amphitheater of Scripps Green Hospital, 10666 North Torrey Pines Road, is part of the Society of Fellows Distinguished Lecturer Series.

George Koob to Speak in Faculty Lecture Series
Scripps Research Professor George Koob will speak on "The Neurocircuity of Drug Addiction: Neuroadaptive Mechanisms from the Dark Side" as part of the
ongoing Faculty Lecture Series on Wednesday, February 8. The lecture will be held at 5 PM in the Timken Amphitheater, Scripps Clinic, La Jolla.

Cartoonist Draws on "The Power of Procrastination"
Jorge Cham, creator of the popular comic strip "Piled Higher and Deeper" (PHD), will give a lecture and host a book signing on the La Jolla campus on Wednesday, February 8 at 1 PM. In this talk, Jorge Cham will recount his experiences bringing humor into the lives of stressed out academics, examine the source of their anxieties, and explore the guilt, the myth, and the power of procrastination. Life Is Tough and Then You Graduate, the second collection of PHD comics to date, was published in April 2005. This event, which will be held in the Keck Amphitheater of the Beckman Building, is sponsored by the Postdoctoral Services Office, Scripps Research Graduate Program, and Society of Fellows.

Library Tip: Protocols and Handbooks
The Kresge Library offers a "Protocols & Handbooks" web page that lists journals, books, and websites that specialize in scientific techniques, methods, or procedures. One resource is "Current Protocols", a major online collection of searchable and subject-specific procedures written by scientists. The Kresge Library's protocols web page also lists a subsection of the book collection that focuses on practical procedures and techniques, such as handbooks and manuals. These books address the "how to" aspects of scientific research. Examples include High-Throughput Synthesis: Principles and Practices; Biochemical Methods: a Concise Guide for Students and Researchers; and Immunology Methods Manual: the Comprehensive Sourcebook of Techniques. For more information, contact the Kresge Library Help Desk, x4-8705 or helplib@scripps.edu.
Send comments to: mikaono[at]scripps.edu

Thank You, Joe!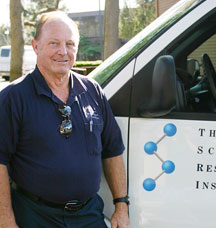 Scripps California mail carrier Joe Berbrick alerted Security when he saw a suspicious vehicle enter the 3301 Torrey Pines Court parking garage recently. Thanks to Berbrick's quick thinking, Security Services was able to apprehend two men allegedly breaking into a car to steal a radio. "We are very proud of Joe," says Don King, director of Security. "Joe demonstrated that Security Services relies on the Scripps Research community to partner with us to provide a safe campus."