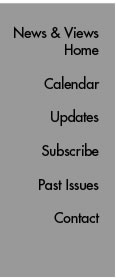 Scripps Surfing Makes a Splash
By Mika Ono
Why surf?
For Sophie Rozenzhak, a first-year Ph.D. candidate at The Scripps Research Institute's Kellogg School of Science and Technology, it's the excitement, the challenge, the sport. "You have to focus on what you're doing or you'll be wiped out by a wave," she says. "It's a wonderful way to leave everything else behind."
For Jason Harless, an administrative assistant for the Friedlander and Yeager labs, it's the independence and freedom. "There are no rules. There is no one telling you what to do. Instead, it's just endless possibilities."
And both Jason and Sophie enjoy the interaction with nature—staying in sync with the constantly changing ocean and swimming with seals, whales, and dolphins. "And then there's the sensory experience of surfing," adds Sophie, "the smell of the ocean, the wind, the chaos of crashing waves and hissing foam and the sudden silence once you're riding on a wave."
Now Jason and Sophie have started a surf club on the La Jolla campus to share their passion with others—both beginners who have never been on a wave and more experienced surfers looking for new surfing companions. So far, some 75 people have signed up for the Sports@Scripps.edu Scripps Surfing listserve. The first outing for beginners, held in December, drew 15 Scripps Research students, postdocs, staff, and their friends and family.
The free beginner outings, which Jason and Sophie plan to hold about once a month, help newcomers with the basics—how to choose a board, evaluate surfing conditions, and time a wave. Participants are also introduced to a surf shop in La Jolla that offers discounts to Scripps Research employees—Hike Bike Kayak, where Scripps Research employees can rent a board and a wet suit for $20. (Scripps Research employee discounts also apply to Hike Bike Kayak's other products.)
Jason, who came to surfing from skateboarding and snowboarding (he's originally from Boston), knows that sometimes a little help can go a long way. "It's important to choose the right board," says Jason. "The first time I went out, I used a 6'6" board. It was definitely NOT a beginner board. More experienced surfers have five or six boards to use depending on the wave conditions."
Sophie and Jason are enthusiastic about the surfing club. Jason, who takes web design classes from the California Art Institute, created a web site for the group—complete with wave watch, weather forecast, a beginner's tutorial, and surfing links. Sophie and Jason are organizing a trip to Baja, Mexico, famous for its good surf. And they've already held their first social event—getting together to watch the Robert August 30-year tribute movie, a documentary on the famous "Endless Summer" surfer.
Sophie emphasizes that everyone is welcome. "When I first went out, I was surprised at the mix of people who surf," she says. "There are people from all walks of life and a lot more women than I expected. Surfing is for everyone and our group is a great opportunity to enjoy the sport and make friends."
For more information, see the Scripps Surfing web site, or contact Jason at jharless@scripps.edu, or Sophie at sophie@scripps.edu. The next outing for beginners is scheduled for Saturday, February 11, from 9 AM to noon, at the Torrey Pines Beach.
Send comments to: mikaono[at]scripps.edu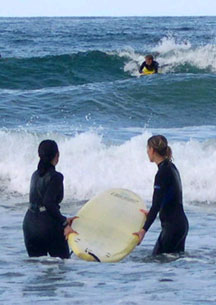 Catching a wave with the new group, Scripps Surfing.