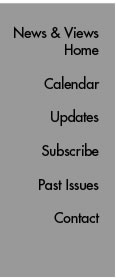 In Brief

SOF Distinguished Lecturer Series to Feature Sir Paul Nurse
Nobel laureate Sir Paul Nurse, president of The Rockefeller University, will speak in the Society of Fellows' Distinguished Lecturer Series on Monday, January 9, from 4 to 5 PM. The event will be held in the Timken Amphitheater, Scripps Green Hospital, La Jolla campus. A reception will follow. For more information on the lecture and on the Distinguished Lecturer series, see the Society of Fellows web site.

Ian Wilson to Speak in Faculty Lecture Series
Professor Ian Wilson will speak on "Molecular basis of pathogen recognition by the immune system" as part of the La Jolla campus's Faculty Lecture Series on Wednesday, January 11. The lecture will be held at 5 PM in the Timken Amphitheater, Scripps Clinic, 10666 North Torrey Pines Road, La Jolla.

Library Tip: Top-Ten Science Books
A recent study by Bikkalbasi and Goodman (2004) found that books continue to be a resource for scientists during the research process. Twenty years of data from the ISI Web of Science database showed the top-ten most cited books are: (1) Numerical recipes: the art of scientific computing, by W.H. Press et al, (2) Molecular cloning: a laboratory manual, by E.F. Maniatis, (3) Escherichia coli and Salmonella typhimurium: cellular and molecular biology, by F.C Neidhardt, (4) Methods in yeast genetics: a Cold Spring Harbor Laboratory course manual, by D.C. Amberg et al, (5) Computers and intractibility, by M. R. Garey et al, (6) The Quantum Hall effect, by R.E. Prange, (7) Combustion theory, by F.A. Williams, (8) Drosophila: a practical approach, by D.B. Roberts, (9) Numerical recipes in C, by W.H. Press, and (10) Experiments with gene fusions, by T.J. Sihavy. Almost all of these titles are available in the Kresge Library for loan. Please check Ellen, the library's catalog for availability. For more information, contact the Kresge Library Help Desk, x4-8705 or helplib@scripps.edu.

Service Recruits Paid Blood Donors
Because of the success of the Scripps Research Normal Blood Donor Service (NBDS) in its first year of operation, the NBDS now needs to expand the pool of donors who can provide blood to meet the anticipated demand in the coming year.
Donors are immediately compensated with a minimum of $25 and a maximum of $100 for a single draw, depending on the quantity of blood needed.
To qualify as a normal blood donor, individuals must meet the following criteria:
Be between 18 and 65 years of age
Weigh at least 110 pounds (50kg)
Have blood pressure between 90-180 mm Hg systolic and 50-100 mm Hg diastolic
Not have undergone major surgery within the past six months
Score adequately on recent hemoglobin testing
Screen negative for HIV and Hepatitis B and C, upon entry into the program and every year after that
Not take aspirin or anti-inflammatory medication on a daily basis.
For general information about the Scripps Research NBDS, see http://www.scripps.edu/researchservices/nbd/. For more detailed information, including forms for becoming a paid donor, see http://nbd.scripps.edu/.
If you have questions, contact Priscilla Crisler, NBDS coordinator, at (858) 554-2284 or email at corelab@scripps.edu.

January Onsite Clinics Move to Temporary Location
On Monday, January 9, Wednesday, January 11, and Friday, January 13, personnel from Sharp Rees-Stealy Medical Group will be onsite to conduct TB screenings, hepatitis B immunizations, serum draws, and tetanus immunizations. For the month of January, the clinics will be conducted in the Human Resources Training Room, located in the 3377 Building, Room 205, from 11 AM to 2 PM.
No appointments are necessary. TB screening requires a 48 to 72 hour follow-up. Individuals receiving the TB screen on Monday will need to return on Wednesday, and individuals screened on Wednesday, will need to return on Friday. Initiation of the TB screening process will not be available on Friday, but Hepatitis B immunization, serum draws, and tetanus immunizations will be. To learn more about these programs, see the Environmental Health & Safety Occupational Medicine web page, which includes a map and patient information sheets.

News&Views Takes a Break for the Holidays
News&Views will not be published over the Christmas and New Year's holidays. Regular weekly publication will resume with the Monday, January 16 issue.
Send comments to: mikaono[at]scripps.edu

June James Retires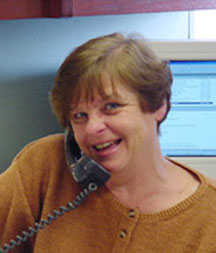 Administrative Assistant June James of the Schimmel lab is retiring in January after nearly nine years of service to the institute. "Scripps has the best people to work with," she said, "and I love the Schimmel lab. I'm going to miss it."