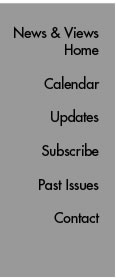 Got Databases? The New Informatics Core Can Help
By Mika Ono
The Scripps Research Institute has launched a new service, the Informatics Core, to support scientists and staff working with databases.
"My goal is to help whomever I can at Scripps—any lab or group in need of a database or web application," said Clark Grininger, the new core service's director. "I make the solution useful and customize it to each group's needs."
Grininger's range of services is broad, including database analysis, design, construction, maintenance, and troubleshooting. He will work on any size database, from desktop (MS Acess/Fox Pro) and server based (MS SQL, MySQL) to large systems (Oracle and Sybase).
Since the service was launched last summer, Grininger has been busy. Very busy. To date, his projects have included:
Developing a database and web site to track a multi-center study of transplant patients;
Working with the Normal Blood Donor Program to streamline its data collection, sample labeling, and storage;
Developing a database system to work in conjunction with new employee ID card/ parking pass;
Streamlining document tracking for the Institutional Animal Care and Use Committee;
Setting up a database for the training operations of the Human Resources Department;
Centralizing and improving the efficiency of grant tracking for the Office of Sponsored Programs.
Grininger comes to the new core from an informatics position with the former Scripps Research General Clinical Research Center, where he applied his skills to help the center cut costs and increase the accuracy of it data. Before coming to the La Jolla campus in 2002, he worked for the University of Hawaii, where he programmed a touch-tone registration system and a web-based interface, and for Personal Logic (acquired by AOL), where he programmed decision guides for consumers.
"The great thing about working for Scripps is ultimately I am making a positive difference in people's lives," said Grininger, "and the people I work with every day are terrific."
For more information on the Informatics Core, see its web site at http://www.scripps.edu/researchservices/informaticscore/ or contact Grininger at (858) 784-7347 or infocore@scripps.edu.
Send comments to: mikaono[at]scripps.edu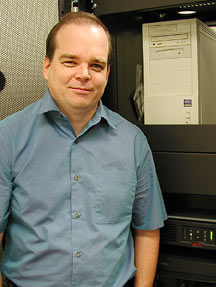 "I make the solution useful and customize it to each group's needs," says Clark Grininger, director of the new service. Photo by Kevin Fung.