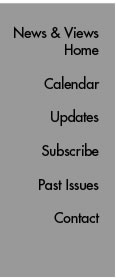 Reports from the Scripps/Oxford Conference
The Scripps Research Institute and Oxford University opened the inaugural Scripps/Oxford International Biotechnology Conference at the Breakers in Palm Beach, Florida, last week, attracting more than 400 enthusiastic scientists and clinicians, pharmaceutical and biotechnology executives, investors, and representatives of Scripps Florida and Florida research universities.
The theme of the November 13 to 15 conference, "Building a New Model for Bioscience, Biotechnology, and Bio-medicine," included presentations and panel discussions by dozens of leading scientists and business executives from around the world on topics ranging from stem cell and gene therapy to exit strategies for biotech companies. A pre-conference focused on advances in research on neurodegenerative diseases of aging and technologies for drug discovery.
The conference was underwritten by Amgen, C/Max Capital Corp., Edwards & Angell, LLP, Ernst & Young, Florida High Tech Corridor, Greenberg Traurig, Ivax Corp., Korn/Ferry International, Lehman Brothers, NeoRx, and Siemens. Additional support was provided by Florida Trend magazine.
This is what some of the organizers and participants had to say:
"The conference went very well indeed, beyond expectation. We had an excellent roster of speakers, very good attendance, a unique mix of scientists, venture capitalists and biotech hopefuls... Several individuals commented in their presentations that it helped put Scripps Florida on the map in an important way. For me, it was the quality and content of many of the talks that made the meeting memorable. Also, from the technical point of view, it was superbly organized by Will [Ray, vice president for external affairs] and his team and I could not put my finger on a single hitch."
—Charles Weissmann, chairman and professor in Scripps Florida's Department of Infectology, who co-chaired the conference.

"The conference represented a landmark for Scripps to present an array of scientists, all ofwhom are experienced in their own field in diverse subjects many relating to healthcare. The interest of the local community and the investment community clearly points to the attraction of the Scripps model of doing research, which has an applied component. The high attendance throughout all the sessions reflects the quality of the science and the high level of interest. It was an outstanding meeting, excellently organized, and in a magnificent resort! It is truly a model for a modern conference and I was proud to be part of it."
—Raymond Dwek, director of the Glycobiology Institute and professor of biochemistry at Oxford University, who co-chaired the conference.

"The Sunday session covered a mix of talks about sophisticated technology applied to important biological problems interspersed with talks on neurodegenerative diseases. The attendance was exceptional, standing room only at times. What emerged is that substantial progress is being made towards understanding the etiology of neurodegenerative diseases such as Alzheimer's, Parkinson's, and the like. This, combined with talks from Ben Cravatt, John Yates, Ray Stevens, and Pat Griffin on technology, gave the attendees lots to think about."
— Jeffery W. Kelly, vice president of academic affairs, dean of graduate studies, and Lita Annenberg Hazen Professor of Chemistry, who chaired the pre-conference.

"This conference was unique in that it combined exceptional basic scientific presentations with business-oriented talks and discussions. Often when the commercial side is emphasized, the basic, academic scientists and their talks are of a lesser quality. In this conference, however, the talks and presenters were about as good as they get and we had a strong connection with the venture community and biotechnology and pharmaceutical enterprises. Most unusual."
—Paul Schimmel, Scripps Research Ernest and Jean Hahn Professor of Molecular Biology and Chemistry, who spoke on "Novel Antiangiogenic Strategies."

"My session contained excellent presentations and was very well attended. The scientific level was high throughout the conference. A conference such as this one should make it apparent that Scripps is helping in bringing world-class science to Florida. If possible, it should be repeated regularly, however perhaps with different sets of participants and covering different topics.
—Claes Wahlestedt, Scripps Florida professor of Biomedical Sciences and director of Neuroscience Discovery, who chaired the conference session entitled "CNS and Some of its Diseases"

"The meeting on infectious diseases and immunity was excellent, with impressive speakers and numerous attendance. The presentation of a new cell culture system for hepatitis C virus was the most striking novelty, but presentations on other topics were also very well received. In general, the broad attendance from various origins (academia, business, industry) was quite memorable. The impact of this conference will be long-lasting, and demands for repeat performances have already surfaced: this conference will likely be a start of a series. Hopefully, the next one will be in Scripps' own facilities, wherever that may be!"
—A. Donny Strosberg, Scripps Florida professor of Infectology, who chaired the "Transmissible Diseases and Immunity" session.
Send comments to: mikaono[at]scripps.edu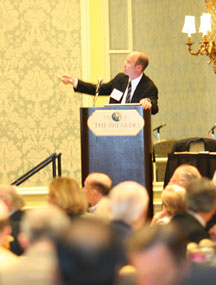 Scripps Research's Jeffery W. Kelly speaks in a session, "Neuroscience and Therapeutic Applications from a Public Perspective."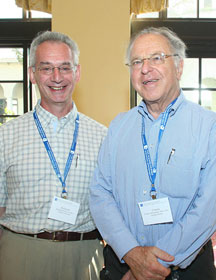 Raymond Dwek of Oxford University and Charles Weissmann of Scripps Research co-chair the biotechnology conference.

Scripps Research Professor Tamas Bartfai asks a question at Lehman Brothers Vice Chairman Frederick Frank's talk, "The Episodic Transformations of the Pharmaceutical Industry and the Present Convergence with the Biotechnology Industry."