Snapshot:
Katja van Herle
Title: Director of Community Health Education.
Goal: "To demonstrate how the great science at Scripps Research positively contributes to excellence in clinical medicine."
Action Plan: To develop an outreach program consisting of lectures, publications, and webcasts, drawing on the science at Scripps Research and her knowledge of how it has been and will be applied to medical problems. To help friends of Scripps Research find the best medical care for their needs in today's complex health care system. To raise money to fund the expansion of her programs. In general, to help make a difference in the treatment of disease.
Started at Scripps Research: 2004.
Background: A native of Belgium, Katja Van Herle earned her B.S., M.D., and MSPH in Public Health from University of California, Los Angeles (UCLA). She was also chief resident of internal medicine at the UCLA Medical Center, and Chief of Endocrinology at the UCLA Santa Monica Hospital.
Medical Interests: Internal medicine and endocrinology, with a special interest in diabetes, obesity, and the cardiovascular dysmetabolic syndrome.
Thoughts on Scripps Research: "Scripps Research is one of the largest and greatest centers for biomedical science in the world."
Favorite Part of the Job: "This is my dream job. I am an educator. I see patients. I build projects. I'm encouraged to think out of the box. What more could I ask for?"
Outside of Scripps Research: Van Herle also runs a private practice in Los Angeles one day a week, and is on the clinical faculty of medicine at UCLA's David Geffen School of Medicine. She is raising three boys, ages 9, 6, and 4.
Send comments to: mikaono[at]scripps.edu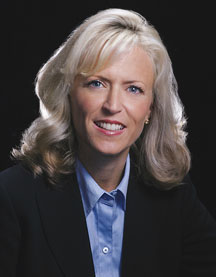 Katja Van Herle, Scripps Research director of community health education, wants "to show how the great science at Scripps Research affects patients."