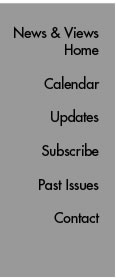 Fire Prevention 101
By Mika Ono
Fall brings cooler weather, the Santa Ana winds… and fire season.
In addition to generally dry conditions in states like California, fire hazards spring up for reasons that might not be immediately obvious. "In the fall, people exchange many outdoor activities for indoor leisure," says John Murphy, safety coordinator in The Scripps Research Institute's Department of Environmental Health and Safety on the La Jolla campus. "They turn on the furnace for the first time in months. They rediscover their fireplace..."
Not coincidentally, the National Fire Protection Association has chosen to name this coming week, October 9 through 15, "Fire Prevention Week" in memory of the Great Chicago Fire of 1871, which killed more than 250 people and left 100,000 homeless. Fire Prevention Week provides an opportunity for everyone to review fire safety issues.
"A few simple steps can go a long way toward fire prevention and safety," says Murphy, "and that's true both at home and in the lab."
Murphy's top safety tips include:
Remove combustible materials from around an open flame. In the home, this can mean "Using Candles with Care"—the National Fire Protection Association theme for this year—and having your furnace inspected before firing it up (utility companies usually offer this service for free). In the lab, this can include checking for notebooks and chemicals in the area before lighting a Bunsen burner or using a hot plate. The main message here: never leave an open flame unattended.


Have a plan. At work, do you know what proper emergency procedures are for your group? Are you aware of the closest exit? Do you know where your group would meet to make sure everyone is accounted for? At home, have you talked about what you would do if a fire broke out? The same basic principals should apply both at work and at home.


Remember a few simple emergency procedures. It is all too easy to forget what you thought you knew when panic hits. A quick review… If necessary, crawl to minimize smoke inhalation and increase visibility. Close doors after exiting to contain smoke and flames. If your clothes catch on fire, "stop, drop, and roll" (Murphy points out this isn't as easy as it sounds because your first instinct is to run). Remember to alert others and sound the alarm.


At home, don't forget maintenance. While at Scripps Research, facilities personnel maintain emergency systems such as alarms, at home it's up to you. Check your smoke detectors regularly. A good way to remember to do this is to routinely replace batteries and test detectors when setting your clocks for Daylight Savings or Standard time. Clear dry brush from around structures such as houses, garages, and sheds. And, if you don't already have one, consider purchasing a fire extinguisher for your home or even your car.


Know how to call for help. On the Scripps Research's La Jolla campus, dial "77" in case of emergency. In most other parts of the United States, dial "911."
In general, planning ahead is critical because, as Murphy knows from personal experience, smoke and fire can spread incredibly quickly. "A shorted electrical circuit once set my living room on fire," he recalls. "It only took a few seconds for the room to be filled with smoke, leaving very little time to react." Luckily, in this case the fire was quickly contained.
As a service of the La Jolla campus's Environmental Health and Safety department, Murphy offers training on how to use fire extinguishers. The half-hour training sessions offer participants the chance to use an extinguisher to put out a real fire.
"Putting out an actual fire gives people confidence," he says. "It also can demonstrate an extinguisher's limitations."
In fact, he cautions, there is only so much a fire extinguisher can do. "In case of fire, put your safety first," he advises. "I'll show you how to use an extinguisher, but when in doubt, get out of the building."
To schedule a training session for your Scripps Research group, contact Murphy at x4-8240 or email jmurphy@scripps.edu.
Send comments to: mikaono[at]scripps.edu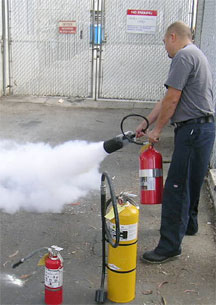 Scripps Research's Environmental Health and Safety Department offers training on how to use fire extinguishers to groups on the La Jolla campus.