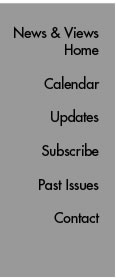 In Brief

Environmental Services Recognized as "Green Clean"
Scripps Research Environmental Services was recently recognized by Green Seal for meeting a variety of "green" standards, which seek to reduce the environmental impact associated with the manufacture, use, and disposal of cleaning products. Environmental Services met standards for:
Cleaners, including general purpose, bathroom, glass, and carpet cleaners.
Paper products. As one example, the paper towels used at the institute contain 100 percent recovered materials and at least 40 percent post-consumer material by weight.
Equipment. The department's vacuum cleaners have been approved by the Carpet and Rug Institute for the Vacuum Cleaner and Indoor Air Quality Testing Program.
Recycling. As part of the landfill diversion program, the department recycles paper products, including cardboard. A lesser-known item being recycled is carpet.
"Our goal is to provide healthy, high performance cleaning," says Environmental Services Director Larry de Greif, "and a viable business strategy that allows for continuous improvement."

Network for Women in Science Sponsors Mentoring Lunch
The La Jolla campus's Network for Women in Science (NWiS) will host a mentoring lunch for graduate students, postdocs, and technicians to meet and interact with female faculty members in an informal setting on Tuesday, October 11 at 1 PM. The following faculty members will attend:
Associate Professor Wendy Havran,
Assistant Professor Natasha Kralli,
Professor Velia Fowler,
Associate Professor Mary Manchester,
Associate Professor Anette Schneemann.
The lunch, to be held in the Faculty Club, will provide an exceptional way to meet female faculty, as well as a great forum for meeting other Scripps Research graduate students, postdocs, and technicians. If you have questions or would like to register, e-mail Kiyomi Komori at kkomori@scripps.edu. The registration deadline is October 1. Another lunch will be held in the spring next year. For more information on NWiS, whose general meetings are held on the first Tuesday of every month (12-1pm, Beckman BCC5N), see the new NWiS website.

Research Computing Classes: "Developing Bioinformatics Computer Skills"
Research Computing will offer its free Unix and scientific application classes, "Developing Bioinformatics Computer Skills," over the next few weeks. Classes, open to both scientists and staff, are:
Bioinformatics Foundations, Tuesday, September 20, 1:30 – 4 PM
Perl, Wednesday, September 21, 1:30 - 4:30 PM
Introduction to Unix, Thursday/Friday, September 27/28, 1:30-4:30 PM
More Unix, Tuesday, October 4, 1:30 – 4 PM
Unix Shell Scripts, Wednesday October 5, 1:30 - 4:30 PM
PMV - a Python-based Molecule Viewing environment, Thursday, October 6, 1:30-4:30 PM
Cambridge Structural Database Tutorial, Tuesday, October 11, 1:30 - 4:30 PM
Visualizing Molecules with VMD, Wednesday, October 12, 1:30 - 4:30 PM
Modeller - Protein Homology Modeling, Tuesday, October 18, 1:30 - 4:30 PM
Using AutoDock with AutoDockTools, Wednesday, October 19, 1:30 - 4:30 PM
Using AutoDock for Virtual Screening, Thursday, October 26, 1:30 - 4:30 PM
The classes are loosely grouped into a logical sequence, but participants are free to pick and choose what makes sense to them. The class series partially follows the O'Reilly book by Cynthia Gibas and Per Jambeck of the same name. Please note that these classes are not intended to be an introduction to the theoretical and scientific underpinnings of Bioinformatics, nor to be a full-fledged computer science course. Details and sign up are at http://training.scripps.edu/training/. If you have questions, comments, and/or suggestions, please send them to Christoph Weber, weber@scripps.edu or x4-9869.

Library Tip: Faculty of 1000
"Faculty of 1000" offers ratings and highlights of life sciences papers based on scientific merit, as recommended by over 1000 leading scientists, including 12 from Scripps Research. Go to www.facultyof1000.com to find recently recommended papers on protein folding, structural genomics, cognitive neuroscience, directed molecular evolution, macromolecular chemistry, protein chemistry, and proteomics. For more information, contact the Kresge Library Help Desk, x4-8705 or helplib@scripps.edu.

News&Views Resumes Weekly Schedule
With the beginning of the academic year, News&Views has resumed a weekly publication schedule. As always, the deadline for submissions is Wednesday at noon for the following Monday's publication.
Send comments to: mikaono[at]scripps.edu



Recruitment Day in Action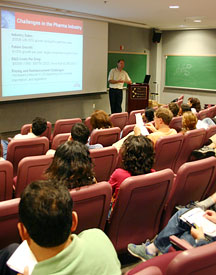 Scripps Research postdocs and graduate students learned about job opportunities in industry at the Second Annual Scripps Research-Industry Recruitment Day on the La Jolla campus last week. Photo by Kevin Fung.