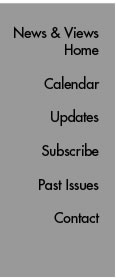 Scripps Research and Oxford to Host International Biotechnology Conference
The Scripps Research Institute and Oxford University will jointly host the inaugural Scripps/Oxford International Biotechnology Conference Monday, November 14 and Tuesday, November 15 at the Breakers in Palm Beach, Florida.
The theme of the conference, "Building a New Model for Bioscience, Biotechnology, and Bio-medicine," will include presentations and panel discussions by leading scientists and business executives from around the world about the state of the art in essential areas of biomedical research, while addressing biotechnology development from a scientific perspective.
A pre-conference on Sunday, November 13 will focus on advances in research on neurodegenerative diseases of aging and technologies for drug discovery.
Among the distinguished presenters at the November 14 and 15 conference are:
Frederick Frank, vice chairman, Lehman Brothers: "The Episodic Transformation of the Pharmaceutical Industry and the Present Convergence with the Biotechnology Industry."

Raymond Dwek, director of the Glycobiology Institute, Department of Biochemistry, Oxford University: "Gylcosylation and Disease."

John Bell, Regius Professor of Clinical Medicine, Oxford University: "Genetic Susceptibility to Disease."

Richard Hargreaves, executive director, Merck Research Laboratories: "Innovative Imaging Technologies."

Paul R. Schimmel, professor of Molecular Biology, The Scripps Research Institute: "Novel Antiangiogenic Strategies."

Inder M. Verma, professor, The Salk Institute; Alain Fischer, professor, Hospital Necker, Paris; and Shimon Efrat, professor, Tel Aviv University: "Stem Cell and Gene Therapy."

Presenters from the Whitehead Institute at the Massachusetts Institute of Technology, the Max Planck Institute of Biochemistry, the University of Amsterdam, and the Institute for Systems Biology on the latest cancer research.
Topics for presentation and discussion at the November 13 pre-conference include "Understanding Neurodegeneration and Cutting-Edge Technology" and "Neuroscience and Therapeutic Applications from a Public Perspective."
Conference sponsors include: Lehman Brothers; Siemens; Ernst & Young; Greenberg Traurig; Edwards & Angell, LLP; Ivax; C/max; Amgen; Korn/Ferry International; NeoRx; Florida High Tech Corridor; Florida Trend, and Scripps Florida.
The Scripps/Oxford conference builds on the collaboration of the two institutions in the Skaggs Oxford Scholarships Program, named for supermarket and drugstore magnate L.S. Skaggs and his wife, Aline, that trains young scientists at the doctoral level at both world-renowned institutions.
More information and registration material for both the conference and pre-conference can be found at: http://www.scripps.edu/florida/conference. Registrants of either conference are invited to a reception with the conferences' presenters, and scientists, senior managers, and trustees of The Scripps Research Institute.
Send comments to: mikaono[at]scripps.edu


Online information and registration material for the first Scripps/Oxford International Biotechnology Conference can be found at: http://www.scripps.edu/florida/conference