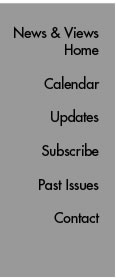 Kenan Charitable Trust Gives $200,000 for Scripps Florida Education Outreach Programs
The William R. Kenan, Jr. Charitable Trust is providing $200,000 to The Scripps Research Institute to support education outreach programs at Scripps Florida, the biomedical research institute's division in Palm Beach County, it was announced today by Richard M. Krasno, executive director of the Trust and president of the William R. Kenan, Jr. Fund based in Chapel Hill, North Carolina.
"Although brand new, Scripps Florida brings more than 40 years of world-class research and reputation from its California campus to Florida, along with a world-class team of scientists who have come here from some of the best academic and commercial organizations anywhere," said Krasno. "The people of the state and Palm Beach County have jump-started Scripps Florida with a large, long-term public commitment, both financial and political. It is appropriate that a private institution like ours that is interested in the state and in improved education also make an early commitment of financial support and advice."
The trust supports university, college, and school programs that foster sustained, substantive training in the arts, humanities, and sciences.
The $200,000, two-year grant will support a variety of outreach activities for science teachers and students in Palm Beach County, beginning this summer with an internship program at Scripps Florida's temporary facilities in Jupiter.
"This generous gift means that we can begin the summer science internship program in our labs on the Florida Atlantic University MacArthur campus this year," said Harry W. Orf, Scripps Florida's vice president for scientific operations who also oversees the middle and high school programs there. "Last year we had local support from Bank of America to send two Palm Beach County science teachers to California, where they joined 30 San Diego teacher and student interns. Now, we can grow a similar program in Florida even before our permanent campus is completed, along with a number of other projects."
Those projects include a Science Saturday program and a mobile science center to take new technologies used in Scripps Florida labs to schools sites and elsewhere. An education committee organized by Orf is responsible for planning, oversight, and evaluation of the projects.
The Kenan Charitable Trust of Chapel Hill, North Carolina, is named for William R. Kenan Jr., a chemical engineer who helped in the discovery of the process of converting calcium carbide to acetylene and the construction of carbide and acetylene plants at the turn of the 19th century.A North Carolina native, Kenan traveled throughout the region to attend to his wide-ranging business interests in railroads, real estate, and oil. As brother-in-law to Henry M. Flagler, Kenan established a strong interest in Florida and spent the majority of his later years in the state. In 1904, Kenan built the first 210-kilowatt power plant in Miami, and in 1955 as a director of Florida Power & Light he turned on one of the largest power plants in the state, the 140,000-kilowatt power generator in Cutler. Kenan also served for many years as president of the Florida East Coast Railway and the Florida East Coast Hotel Company. Following Kenan's death in 1965, a major portion of his estate was used to establish the trust.

Send comments to: mikaono[at]scripps.edu

---
"Scripps Florida brings more than 40 years of world-class research and reputation from its California campus to Florida, along with a world-class team of scientists…"
—Richard M. Krasno
---