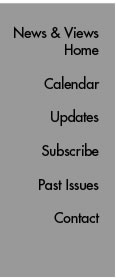 Ribbon-Cutting Celebrates Palm Beach County Facility
A ribbon-cutting ceremony celebrated the opening of a new Scripps Research Institute interim facility at the Florida Atlantic University (FAU) campus in Jupiter on March 11. Heading the long list of dignitaries at the event was Florida Governor Jeb Bush, who delivered the keynote address.
"Today will prove to be an important marker in Florida's history, as we take one step closer to realizing the vision of Scripps Florida and all that it signifies," said Governor Bush. "With a team of more than 100 focused on innovative, life-saving research and discovery, Scripps Florida has already begun to deliver on its promise to propel the state to the forefront of biomedical research and discovery. I am truly excited about what the future holds for Florida in the realm of life sciences, and I thank all Floridians for their unwavering support to make this day a reality. It is only the beginning."
The $12 million state-of-the-art building, complete with wet labs, will immediately serve as home to Scripps Research's Florida-based scientists until a permanent facility is built for them. The scientific work conducted at the facility will fall under three divisions: biomedical science, drug discovery, and advanced technologies. Scripps Florida is expected to occupy the facility for 18 months while its permanent site is under construction. After this time, FAU will take over the facility for its scientific research and training.
To date, Scripps Florida has operated out of existing lab facilities on the FAU Boca Raton campus. Construction of the Jupiter facility, funded by Palm Beach County and FAU, began in early 2004 and was completed in a little over a year. The construction firm for the project was Centex Rooney Construction Company of Plantation. The architect was Schwab, Twitty & Hanser Architects of West Palm Beach.
Scripps Research President Richard A. Lerner said, "Our ongoing and productive partnership with FAU permits Scripps Florida to move forward now with the breakthrough scientific research that we will carry to our permanent home in the future. Our researchers are already hard at work in this wonderful facility and we can anticipate discoveries here that will improve human health."
FAU President Frank T. Brogan added, "This is truly a defining moment for Florida Atlantic University, Palm Beach County, and the State of Florida. Research work of the highest importance will take place in this building, setting the stage for the growth of an important new sector of our economy. FAU is privileged to play a role in this process, and we intend to take full advantage of the priceless opportunities the Scripps partnership has to offer."
Send comments to: mikaono[at]scripps.edu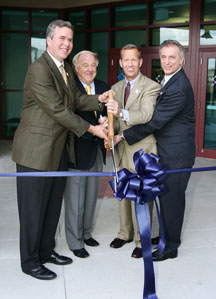 Florida Governor Jeb Bush, Scripps Research President Richard Lerner, FAU President Frank Brogan, and Palm Beach County Commission Chair Tony Masilotti (left to right) celebrate the opening of the new building. Image by Lucien Capehart Photography.