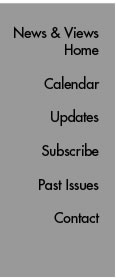 In Brief
Sullivan Wins Director of the Year Award
Chair of The Scripps Research Institute Board of Trustees Alice Sullivan has been honored by a Director of the Year award from the Corporate Directors Forum. The award recognizes those with the highest levels of ethical conduct, integrity, and standards who have shown outstanding performance in the boardroom and behind the scenes.
According to the Corporate Directors Forum, "California Superior Court Judge Alice Sullivan… has led the way toward best practices in board governance, working with the board to enhance its oversight responsibilities. She has overseen long-term planning, finance, development, investment, personnel, audit, and other items with a commitment to employing the highest standards of corporate governance."
Sullivan accepted the award on Tuesday, March 1, at San Diego's Manchester Grand Hyatt.

Bartfai to Head Neuropharmacology
In the wake of Professor Floyd Bloom's retirement this month, Scripps Research Professor Tamas Bartfai has been appointed chair of the Institute's Department of Neuropharmacology.
"We want to express our appreciation for the numerous contributions that [Floyd] has made to both our local scientific community and the global scientific society," says Jeffery Kelly, dean of graduate studies and vice president for academic affairs.
He continues, "Many of you know Tamas based on his scientific accomplishments and owing to his experience as a scientific leader of neuroscience research at Roche. We look forward to working with Tamas to continue to build Neuropharmacology."
Both Bloom and Bartfai will be honored by receptions in the near future.

Schlaepfer Awarded American Heart Association Grant
Associate Professor David Schlaepfer has won an American Heart Association Established Investigator Award. The five-year grant will provide a total of $500,000 to fund his work on the role of focal adhesion kinase (FAK) in cell motility and survival, which has implications for the development of several new therapies.
"[This] research is aimed at understanding the molecular mechanisms that control new blood vessel growth and sprouting," says Schlaepfer. "This process, termed angiogenesis, involves blood vessel endothelial cell migration and proliferation in response to bodily changes. When left unchecked, angiogenesis can contribute to a number of pathological processes including macular degeneration, rheumatoid arthritis, as well as tumor growth and metastatic spread."

Luo, Zhou, Kroeger, Sung-Hyung Receive Travel Awards
Yunping Luo, a postdoctoral fellow in Ralph A. Reisfeld's laboratory, has been awarded the American Association for Cancer Research (AACR)-Glaxo Smith Kline Outstanding Clinical Scholar Award of $4,000 to attend AACR meetings. She is one of only two scientists in the US who received this award, given to a total of nine scientists worldwide. AACR also honored Reisfeld lab postdoctoral fellows He Zhou, Joerg Kroeger, and Sung-Hyung with travel awards of $1,000 each.

Society of Fellows Announces Eight Winners
The Society of Fellows (SOF) at The Scripps Research Institute recently announced the eight winners of travel awards for their presentations at the recent SOF Winter Symposium, which was held on February 3. First and second place winners were selected by a panel of SOF judges in each of the symposium's four tracks and were awarded $700 and $300, respectively. The awards will cover the expenses associated with attending a future scientific conference of the winner's choice. The winners were:
Immunology: Dirk Zajonc, first place; Fei Liu, second place.
Cell & Molecular Biology: Xiaoqin Ye, first place; Defne Yarar, second place.
Chemistry & Structural Biology: Anu Sawkar, first place; Kelly Lee, second place.

Zhang to Speak March 9 in Faculty Lecture Series
Scripps Research Associate Professor Dong-er Zhang will speak on "The Ubiquitin Like Protein ISG15 System in Signal Transduction and Innate Immune Response" as part of the ongoing Faculty Lecture Series on Wednesday, March 9. The lecture will be held at 5 PM in the Timken Amphitheater, Scripps Clinic, 10666 North Torrey Pines Road.

On-Site Clinics Coming Up
On Monday, March 14, Wednesday, March 16, and Friday, March 18, personnel from Sharp Rees-Stealy Medical Group will be on-site to conduct TB screenings, Hepatitis B immunizations, serum draws, and tetanus immunizations. The clinics will be conducted at the CVN Building in Room 209, from 11 AM to 2 PM. No appointments are necessary.
TB screening requires a 48 to 72 hour follow-up. Individuals receiving the TB screen on Monday will need to return on Wednesday, and individuals screened on Wednesday, will need to return on Friday. Initiation of the TB screening process will not be available on Friday, but Hepatitis B immunization, serum draws, and Tetanus immunizations will be. To learn more about these programs, see the Environmental Health & Safety Occupational Medicine web page which includes a map and patient information sheets.
Send comments to: mikaono[at]scripps.edu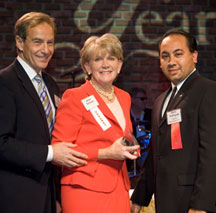 Judge Alice D. Sullivan (ret.), chair of the Scripps Research Board of Trustees, receives the 2005 Director of the Year Award for Nonprofit Governance from the institute's Vice President of External Affairs Will Ray and Eddie Wang Rodriguez, Esq., Principal of Fish & Richardson P.C. Images by Studio M / Michael Spengler Photography.

Prospective Students Visit Campus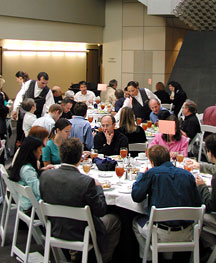 About 130 prospective biology and chemistry students are visiting the Scripps Research campus in late February and early March. This year, their schedule was arranged to maximize faculty involvement. Here, prospective students chat with faculty at a Friday luncheon. Photo by Kevin Fung.