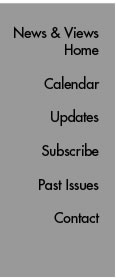 In Brief
Department of Chemistry Presents Frontiers in Chemistry Symposium
The Scripps Research Department of Chemistry presents the 16th annual Frontiers in Chemistry Symposium on Friday, February 18. Lectures, which will be held at the Neurosciences Institute Auditorium, 10640 John Jay Hopkins Drive and are open to the public, will include:
9 AM: Chair K.C. Nicolaou of Scripps Research will give the introduction and welcome.

9:10 – 10 AM: Professor Carolyn Bertozzi of the Howard Hughes Medical Institute and UC Berkeley will present the Amgen Lecture, "Chemistry in Living Systems: Applications to Glycomics."

10 – 10:50 AM: Professor Ei-Ichi Negishi of Herbert C. Brown Laboratories, Purdue University, will give the Pfizer Lecture, "Transition Metal-Catalyzed Organometallic Reactions for Organic Synthesis: Zirconium-Catalyzed Asymmetric Carboalumination of Alkenes (ZACA Reaction)."

11:30 AM – 12:20 PM: Professor Thomas A. Stetz of Yale University will give the Merck Lecture, "Motion in Macromolecular Machines."

12:20 – 1:10 PM: Professor David Liu of Harvard University will give the Celgene Lecture: "Synthesis and Discovery Through DNA-Templated Chemistry."
A lunch reception will follow from 1:10 – 2:30 PM in the Beckman atrium. For more information, contact Vicky Neilsen Armstrong, x4-2400 or vbn@scripps.edu.

Lunch and Learn: "Redirecting Children's Behavior"
Parent Educator Hilde Gross, an instructor certified by the International Network for Children and Families, will speak on "Redirecting Children's Behavior: How to Avoid Everyday Power Struggles," on Wednesday, February 16, from noon to 1 PM as part of the ongoing "Lunch and Learn" seminar series. The workshop will teach effective parenting skills, including: how to prevent and respond to misbehavior, how to assist children in becoming more responsible, cooperative, self-confident, and respectful, and how to feel calmer, more confident, and create more time for yourself. The seminar, arranged by Ryan Wheeler and Jan Hill of Counseling and Postdoctoral Services, will be held in the W.M. Keck Amphitheater, The Beckman Center for Chemical Sciences. No reservations necessary. Please feel free to bring your lunch to the talk. If there is enough interest in this introductory workshop, a Redirecting Children's Behavior course series may be offered on campus. For more information on Hilde Gross or the Redirecting Children's Behavior course series, visit http://www.hildercb.com.

The GCRC Is Looking for a Few Good Arms
The Scripps Research Normal Blood-Drawing Program is in need of employee/volunteers to provide fresh blood samples for Scripps Research investigators. Volunteers are paid for their participation. Especially needed are those who do not take medications routinely, including over-the counter medication (birth control is acceptable). Individuals from ethnic minorities are particularly encouraged to participate in order for the results of these studies to be meaningful to all populations.
If you are interested in participating or want more information, please call Priscilla Crisler, Green Hospital Core Laboratory, 554-2284, and leave your name, phone extension, and mail drop so she can send you an application.

News&Views Salutes President's Day
News&Views will not be published next week due to the President's Day holiday. Regular publication will resume on Monday, February 28.
Send comments to: mikaono[at]scripps.edu


Scripps Research Welcomes Visitors from Dartmouth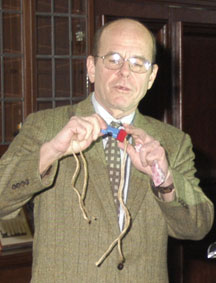 Nobel laureate K. Barry Sharpless, W.M. Keck Professor of Chemistry and member of The Skaggs Institute for Chemical Biology at Scripps Research, was one of several speakers to address visitors from Dartmouth University last week. Here, Sharpless shares his views on the future of science.