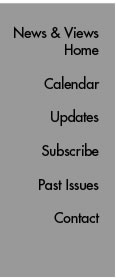 Daffodil Days Fundraiser in Full Bloom
It's almost spring and Leslie Madden is in the middle of her favorite fundraiser, Daffodil Days.
"It's really a worthy cause," says Madden. "We're raising money for the American Cancer Society to support cancer research and education in California. The organization also delivers flowers to every cancer patient undergoing treatment in San Diego County."
Madden, a senior administrative assistant for a group of four labs in The Scripps Research Institute's Molecular Biology Department, took over last year as organizer of the annual campaign, which offers bouquets for sale to the Scripps community.
"I saw an e-mail that someone was needed to organize Daffodil Days and I responded," Madden says. "I believe in giving back."
Madden, who had recently moved to California from Atlanta, found the opportunity particularly meaningful. Fresh in Madden's mind was over a decade of experience working directly with cancer patients in the clinical setting.
When Madden moved West, she wanted to continue her involvement in medicine, but in a different capacity. The job at Scripps Research fit the bill. Madden feels her work is making a contribution, but on a different level—research that will lead to better and more effective treatments.
When the e-mail about Daffodil Days arrived in her in-box, Madden saw another good fit. And her bosses—Scripps Research investigators Paul Russell, Curt Wittenberg, Clare McGowan, and Nick Boddy—were supportive of her involvement.
So Madden picked up where Janet Hightower, the previous organizer, left off, recruiting volunteers, publicizing the campaign, and coordinating with the American Cancer Society.
From her experience last year, Madden expects one of the highpoints of her involvement this year will be the day the flowers arrive—scheduled for Tuesday, March 15. Another highpoint will be giving the funds from the campaign to the American Cancer Society. Last year, the proceeds totaled $6,215—the most ever raised by a Scripps Daffodil Day drive.
Madden hopes for an even bigger success this spring.
To order daffodils or make contributions to the American Cancer Society, download the online order form (PDF) or, contact the Scripps volunteer closest to you:
Diane Ecker, Carr B, x4-9714,
Linda Horning, Carr B, x4-9049,
Jeanette Boerner, CVN, x4-7070,
Kathleen Alexander, Beckman, , x4-8079,
Julia Kim, Science Park, x4-8308,
Suzanna Lee, Science Park, x4-2263,
Jan Tuomainen, 3377 (Human Resources), x4-8825
Karina Lopez, 3301 (Legal office), x4-8842
Rachel Braithwaite, MEM, x4-8195
Kelly Dryden, MBB, x4-8837
Helen Plutner, MBB, x4-8257
Angela Glenn, ICND, x4-7298
Brigid, MEM Vivarium, x4-2321
Darlene Scarcella, Scripps Green Hospital, 554-2525.
The order deadline is Wednesday, February 23. For additional information, contact Madden, x4-2881 or lmadden@scripps.edu.
Send comments to: mikaono[at]scripps.edu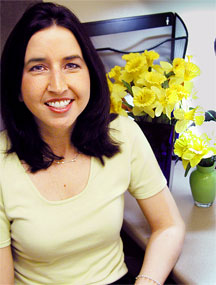 Leslie Madden hopes this year's Daffodil Days campaign is a big success. Photo by Kevin Fung.