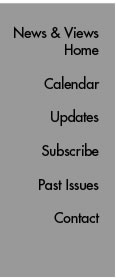 In Brief
Yates to Serve on NIH Study Section
Scripps Research Institute Professor John Yates has been invited to serve a four-year term as a member of the Enabling Bioanalytical and Biophysical Technologies Study Section of the National Institutes of Health (NIH) Center for Scientific Review. Study sections review grant applications submitted to the NIH, make recommendations on these applications to the appropriate NIH national advisory council or board, and survey the status of research in their fields of science.
According to Brent Stanfield, acting director of the Center for Scientific Review, study section members "are selected on the basis of their demonstrated competence and achievement in their scientific discipline as evidenced by the quality of research accomplishments, publications in scientific journals, and other significant scientific activities, achievements, and honors. Service on a study section also requires mature judgment and objectivity a well as the ability to work effectively in a group, qualities we believe Dr. Yates will bring to this important task."

Wong to Speak February 9 in Faculty Lecture Series
Scripps Research Professor Chi-Huey Wong will speak on "Protein Glycosylation: New Challenges and Opportunities" as part of the ongoing Faculty Lecture Series on Wednesday, February 9. The lecture will be held at 5 PM in the Timken Amphitheater, Scripps Clinic, 10666 North Torrey Pines Road.

2004 Scientific Report Now Available
The 2004 Scripps Research Scientific Report is now available. The annual publication offers a comprehensive statement of the instituteís scientific activities, based on submissions from the institute's nearly 300 principal investigators. In addition, the report includes overviews from the department chairs, a list of recent scientific awards and honors bestowed on Scripps Research faculty, and updates on the entities within Scripps Research, such as the Kellogg School of Science and Technology. Individual copies will be available at the reception area of each building. For orders of 10 or more reports, please contact Scripps Research Communications, x4-8133.

Scripps Research Outreach Program Accepts Applications
The instituteís High School Research Education Program, which provides students with knowledge of contemporary issues in basic biomedical research as well as hands-on laboratory experience, is now accepting applications. The program consists of two parts: a spring enrichment tutorial arranged as an eight-week course on aspects of modern molecular biology and chemistry, and a summer internship in which students work as part of an institute laboratory. Students also meet regularly with a graduate student mentor for help with the college application and selection process. For more information, see https://www.scripps.edu/community/hsstudent.html.

On-Site Clinics Find New Home
On Monday, February 7, Wednesday, February 9, and Friday, February 11, personnel from Sharp Rees-Stealy Medical Group will be on-site to conduct TB screenings, Hepatitis B immunizations, serum draws, and tetanus immunizations. The clinics will be conducted at the CVN Building in Room 209, from 11 AM to 2 PM. No appointments are necessary.
TB screening requires a 48 to 72 hour follow-up. Individuals receiving the TB screen on Monday will need to return on Wednesday, and individuals screened on Wednesday, will need to return on Friday. Initiation of the TB screening process will not be available on Friday, but Hepatitis B immunization, serum draws, and Tetanus immunizations will be. To learn more about these programs, see the Environmental Health & Safety Occupational Medicine web page, which includes a map and patient information sheets.
Send comments to: mikaono[at]scripps.edu