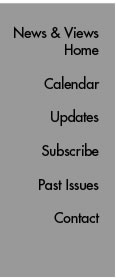 In Brief
Benefit Extended to Same-Gender Domestic Partners
Benefits Administration is pleased to announce Reliance Standard, the Supplemental Life Insurance provider for Scripps Research, will now cover same-gender domestic partners under the policy effective January 1, 2005. This change is done in conjunction with the recent amendments to the California Domestic Partner Rights and Responsibilities Act and the California Insurance Code. Due to the new eligibility rules, Reliance Standard is offering a special enrollment period during the month of January for all Scripps Research employees in California or Florida who wish to enroll their same-gender domestic partners for supplemental life insurance coverage. If you wish to take advantage of this new opportunity, please contact Benefits Administration at 858-784-8487 or benefits@scripps.edu for more information regarding the supplemental life insurance plan including coverage, rates, guarantee issue levels and the application form. All applications must be received by Reliance Standard by January 31, 2005.

Reminder: Deadline for 2004 Tuition Reimbursement Requests Is January 31
Benefits Administration reminds Scripps Research employees that tuition reimbursement requests for courses completed during the 2004 calendar year must be received in Human Resources by January 31, 2005 at 5 PM. Scripps Research will reimburse eligible employees up to $2,500 for courses completed in 2004 that have met all of the requirements for this benefit. The tuition reimbursement form and list of required information is available on the Scripps Research web site at http://www.scripps.edu/hr/benefits/i_forms/tuition05.pdf. Contact Lisa Barker at x4-9212 with any questions.

Disaster Relief Links
The Scripps Research Counseling and Postdoctoral Services Department provides the following links for those who wish to make contributions to relief efforts following the recent tidal wave and earthquake in Asia. Relief organizations, which are working to help victims by providing for basic human needs, are requesting donations both for immediate relief efforts and for long-term challenges. If you are considering a contribution, see the following news service web pages, which provide lists of aid agencies accepting donations:
As always, the Counseling and Postdoctoral Services Department, x4-9740, is available to provide free counseling and referral services to members of the Scripps Research community and their families.
Send comments to: mikaono[at]scripps.edu