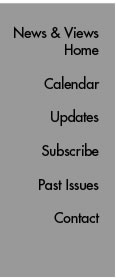 In Brief
Olson to Speak in Faculty Lecture Series
Scripps Research Professor Art Olson will speak on "The Science and Art of Biomolecular Interaction" as part of the ongoing Faculty Lecture Series on Wednesday, November 10. The lecture will be held at 5 PM in the Timken Amphitheater, Scripps Clinic, 10666 North Torrey Pines Road.

Merck Recruiter to Visit Campus
P.K. Tsai, director of the Bioprocess & Bioanalytical Department at Merck Research Labs in West Point, PA, will be on campus on Thursday, October 21 and Friday, October 22, 2004. He will give a presentation at 3 PM on Thursday, October 21 in the Keck Amphitheater followed by an informal mixer, in which Tsai looks forward to meeting all interested Scripps Research scientists. Tsai will also hold job interviews with pre-selected postdocs and graduate students.
To be considered for an interview, e-mail or fax your CV to: Dr. P.K. Tsai Bioprocess & Bioanalytical Research Merck & Company, Inc., WP17-101 West Point, PA 19486, Fax: (215) 993-4849, E-mail: p_tsai@merck.com. While only scientists with a biology background will be selected for this round of interviews, scientists from all areas of research are invited to submit their CVs. The submission deadline for the interviews is Tuesday, October 12. Candidates will be notified if they are selected for an interview by Monday, October 18. For more information, contact the Society of Fellows' Becky Fraser, rfraser@scripps.edu.

Don't let the Flu Strike You
Make prevention your priority. Human Resources is hosting flu and pneumonia immunization clinic for Scripps Research employees on Wednesday, October 13 and Thursday, October 14 from 9 AM to 4 PM in Room 205, 3377 North Torrey Pines Court. Flu immunization is free. Pneumonia immunization costs $35 (cash or checks made payable to "HealthFax, Inc." will be accepted). Scripps Research employees only. For more information, contact Nancy Boccio, x4-8293.

Calendar Office Begins Accepting New 2005 Reservations
The conference room reservation renewal process for 2005 has been completed. Beginning on Friday, October 1, the Calendar Office will accept one-time and new standing reservations for 2005. Reservations are on a first-come first-served basis. To submit a room reservation, complete the form at http://www.scripps.edu/calendar/calendarform.phtml.

Open Enrollment: Online Accessibility and Traveling
Open Enrollment will be held via an online system from October 25 through November 12. This is the annual opportunity to make changes to your benefit selections and, if eligible, re-enroll (or enroll) in the health care or dependent care spending accounts for the 2005 plan year. Benefits Administration will be sending out a series of announcements over the next several weeks with important information you need to know regarding your benefits in 2005.
This week's topic: online accessibility during Open Enrollment. The online system is accessible from any computer with internet access whether it is a work, home, or other computer. So, even if you're traveling during Open Enrollment, if you have internet access you'll be able to log on to review and make changes to your benefits. If you will be traveling without internet access during this period, please contact Human Resources to make arrangements to complete a hard copy enrollment form. There will also be computer kiosks available for use in the Human Resources lobby for anyone who does not have internet access at work or at home. Changes to your benefits for the 2005 plan year must be made between October 25 and November 12, 2004. The only exception is if you have a qualified status change at a later date.
Send comments to: mikaono[at]scripps.edu