Vol. 4 Issue 15 / May 3, 2004
In Brief

Stephan Miller Wins Young Investigator Award
Stephan Miller, a research associate in the Mayford lab at The Scripps Research Institute, was recently honored by the National Alliance for Research on Schizophrenia and Depression with a Young Investigator Award, which provides support for promising young neurobiologists. These awards are most commonly awarded to researchers at the level of assistant professor but can also be given to postdoctoral researchers who demonstrate exceptional potential. Miller is studying the role of messenger RNA transport and translation in neuronal dendrites. These studies may provide novel insights into synaptic function as well as new target molecules for understanding and treating neuropsychiatric illnesses. To date, Miller has demonstrated that the dendritic translation of a particular molecule, the alpha subunit of calcium/calmodulin-dependent protein kinase, is important for stabilization of synaptic plasticity and memory consolidation.

Bob Turner Honored by BioCommunications Association
The BioCommunications Association (BCA) has named Bob Turner, director of Scripps Research BioMedical Graphics, as the Louis Schmidt laureate for 2004. BCA bestows the Louis Schmidt Award annually to one individual "for outstanding contributions to the progress of biocommunications." Turner is a registered biological photographer, fellow of the Biological Photographic Association, and a past president of BCA. The award will be presented in July, during BCA's 74th Annual Meeting, BIOCOMM, Boston.

Barbas to Speak in Faculty Lecture Series
Scripps Research Professor Carlos Barbas III will speak on "Polydactyl Zinc Finger Proteins: Developing Strategies to Control and Discover Genes," on Wednesday, May 12, as part of the Faculty Lecture Series. The lecture will be held at 5 PM in the Valerie Timken Amphitheater, Scripps Clinic, 10666 North Torrey Pines Road. No reservations are necessary.

Career Workshops for Postdocs
Coming up in the Career Workshop Series are two seminars focusing on job-hunting skills for young scientists:
The "CV/Resume-Writing Workshop," on Wednesday, May 5 from 10 to 11:30 AM, at the Keck Amphitheater, will feature Barbara Coleman of PharmaScouts.


The "Interviewing Workshop," on Wednesday, May 5 from 2 to 3:30 PM, at the Keck Amphitheater, will feature Mary Yaroshevsky-Glanville, senior director of human capital for Anadys Parmaceuticals, on "Initial HR Interviews"; Luc Teyton, associate professor at The Scripps Research Institute, on "Academic vs. Industry Interviews"; and Duncan McRee, president of ActiveSight, on "Hiring Manager Interviews." A question-and-answer period with the speakers and recently interviewed Scripps Research postdocs will follow.
These workshops are arranged by Teyton, the Counseling and Postdoctoral Services Department, the Society of Fellows, and the Network for Women in Science at Scripps.

Traffic Update
Through May 6, construction will continue on North Torrey Pines Road and its intersections at Salk Institute Road, La Jolla Shores Drive, and Expedition Way. The construction team will restore curbs, gutters, and medians and begin installing traffic loops.

Health Fair Heads-Up
The fifth annual Scripps Research Health Fair will be held on Wednesday, May 26 from 11 AM to 1 PM on the walkway in front of the Immunology Building. A variety of health and wellness topics will be addressed including fitness, nutrition, and safety. There will be health and wellness screenings, fitness and recreation demonstrations, chair massages, giveaways, and food samples from your favorite local restaurants. All Scripps Research employees and graduate students are invited to participate in this fun and educational event.

Submissions for Scientific Report Due Friday
All submissions for the 2004 Scientific Report are due at noon on Friday, May 7. You may submit your report in one of two ways:
1) By putting your submission on a disk and giving it with a printout to your departmental administrator (as reports have been submitted in the past),
2) By sending a file via email to Jann Coury of the Communications Office at jcoury@scripps.edu and giving a printout to your departmental administrator. Guidelines for submitting reports are available at http://www.scripps.edu/services/comm/sr2004guide.pdf.
In addition, for investigators who hold joint appointments in The Skaggs Institute for Chemical Biology, the Skaggs Institute Report submissions will be due Friday, September 10. Submission guidelines are available online at: http://www.scripps.edu/services/comm/sk2004guide.pdf.
Send comments to: mikaono[at]scripps.edu
Karen Toomire Retires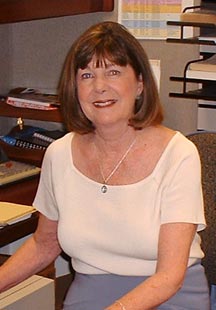 Administrative Assistant Karen Toomire (formerly Thompson) of the Wong lab is retiring at the end of April. "I've felt fortunate every day I've come to work here," she says, "so leaving Scripps is bittersweet." Toomire plans to enjoy her retirement with her husband, traveling across the United States, painting, doing needlework, playing bridge, and practicing tennis. "I plan to live life like I'm at a resort," she says.